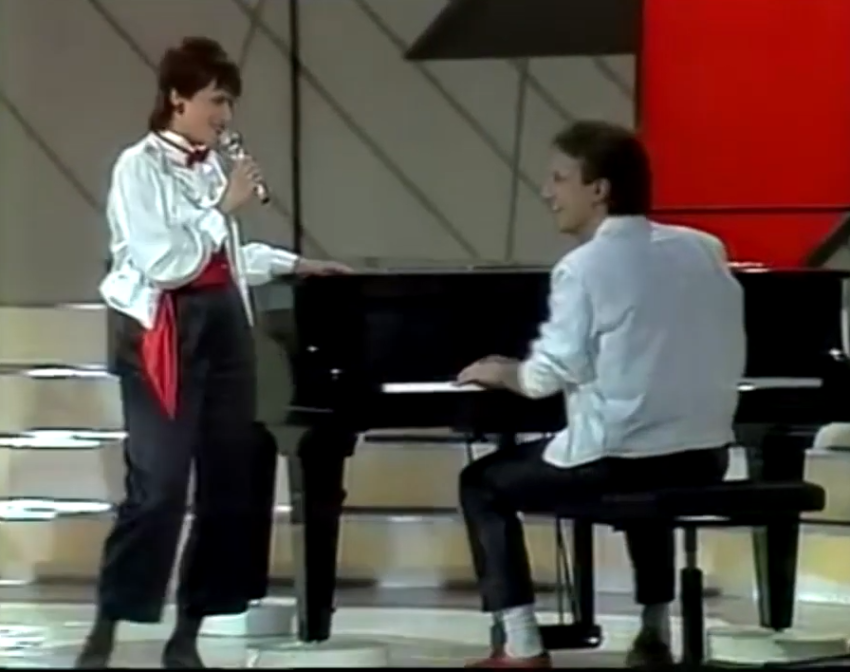 Kirsten & Søren, or Hot Eyes, as they called themselves internationally, managed to represent Denmark a total of three times at the Eurovision Song Contest. The first one, 'Det' Lige Det' finished in 4th place and is still loved by many Eurovision fans.
If you ask a Danish Eurovision fan for their favourite Dansk Melodi Grand Prix final, you are likely to hear 1984 as the answer. This was a very strong national final with several songs able to achieve a great result at the Eurovision Song Contest. Kirsten Siggaard and Søren Bundgaard won this strong selection – maybe with a little help from a swimming pool. Kirsten pushed Søren into the swimming pool as he leaned forward trying to kiss her. That moment is a classic in Danish Melodi Grand Prix history.
Det' Lige Det is written by Søren himself with Keld Heick submitting the lyrics. At the Eurovision Song Contest no swimmingpool were in use. Instead Kirsten just simply pushed Søren away. The song finished 4th achieving points from all the other participating countries. This included the maximum 12 points from Norway and United Kingdom.
Det' Lige Det – opinions from fans
In order to find out what Eurovision fans today think of this Danish entry from 1984, we asked our Eurovision Fan Panel. It includes team members as well as fans from all over the world.
🇬🇧 Ashleigh K. – I wasn't even born when this song was performed at ESC so this is my first time listening. I like it a lot. Everything about this screams the 80's, but in a good way. The melody is fun and the performance is relaxed and unforced. A very nice entry – thanks for making me listen to it 😁
🇩🇰 Liza P. – Being a Dane, I can't comment on Det' Lige Det without first mentioning the performance in the Danish preselection, where Kirsten pushed Søren into the swimming pool before the last chorus of the song. This for me is such a classic Eurovision moment like when Lill Lindfors lost her skirt. It probably also was the reason why the song won in Denmark. I like the song, but I did have other favourites in the Danish selection.
And now for the Eurovision performance. Without the swimming pool the performance lacks something – but I'm pleased to see that at least the clothes were upgraded to be a little classier than the jogging suits they were wearing in the Danish selection. The song is definitely a great song also for the time period. Kirsten has a great voice, which she has shown on many other occasions.
🇬🇧 🇮🇪 William S. – Det' Lige Det, is definitely my favourite of their three entries into the contest. Very much of its time, it has a real boppy feel to it and Kirsten is ever the charismatic performer. One thing I'm devastated about is that they couldn't bring the swimming pool with them.
🇨🇿 Josef Š. – I never heard this song before, but it sounds very catchy for the first run through, and I love most the refrain as there is one melody part with chords sequence I really really love every time I hear it somewhere. I know for sure that this song will have its place in my playlist in the future. I simply love this. And I don't care I don't understand Danish at all, I just base my opinion on the feelings this song wakes in me.
🇬🇧 Michael O. – This was one of my potential winners at the time and I'd have been delighted had it won. But finishing just below was the Italian entry, complex and original and still a classic years later, whereas Denmark's entry has not aged well, very much a Eurovision entry of its time. The best of Hot Eyes' three entries.
🇨🇴 🇫🇮 Alvaro S. – I love this happy feel these pop songs from the 80s gives me. The lead singer of Hot Eyes is entertaining and looked very charismatic. The choreography simply is cute. However, it was 1984 and Sweden had another cute, feel good song that is slightly more memorable.
🇩🇰 Charlotte J. – This was the song that got me into Eurovision. As such, it will forever have a special place in my heart. On the evening of the Danish final 1984, I became a Kirsten & Søren (Hot Eyes) fan and a Melodi Grand Prix fan. A couple of months later, I became a Eurovision fan too.
But anyway, this 1984 song is really great. It's catchy, enjoyable, well sung and well performed. It's a great piece of what the 1980's had to offer, and I love it. A well deserved 4th place and the start of this duo's career.
🇺🇸 Grace W. – Det Lige Det is quite easily my favourite Danish entry of the entire Eurovision Song Contest. It's also my winner of 1984. Out of Kirsten & Søren/Hot Eyes' three entries, this one stands out the most for me. It's simple and the tune is easy to remember, and in my opinion, much more superior to the real winner that year. 10/10 from me.
🇳🇴 Steinar M. – This is a song I am quite indifferent about to be honest. It's not great, and not bad. First of the Danish swing songs, with a big sonorous arrangement. Also recorded in Norwegian by Four Jets.
🇸🇪 Sara T. – This song is alright, not excellent but not horrible, just somewhere in the middle. I much prefer the other two entries by Hot Eyes, especially Ka' Du Se Hva' Jeg Sa'? from 1988 which is my favourite Danish entry. Denmark is great at sending good, well-written pop songs, but I often prefer more "unique" songs with a bit of darkness in them. But like I said, this song is alright, just not one that gets my heart pounding.
🇦🇺 Vivienne F. – This was one of those songs that you just naturally start tapping your foot to, and moving your head from side to side, just a fun song. It was upbeat during both verses and chorus. It would have been my winner. When I listened to it again I realised it sounds like Bobbysocks 1985 Let It Swing. Norway must have been inspired by Denmark.
In the embedded video you can check out the 1984 Eurovision performance from Hot Eyes. Below the video, you can read more about this duo that managed to represent Denmark again in 1985 and 1988.
Hot Eyes (Kirsten & Søren) – a mini biography
This popular duo was formed after their performance at the 1983 Danish national Melodi Grand Prix final. Søren Bundgaard had originally been selected to take part with another song. That was disqualified, and instead he was given the chance to participate with Og Livet Går. Kirsten was called in as singer for the song. Afterwards a new duo was born: Kirsten & Søren. The duo separated again late 1980's.
Kirsten Siggaard kicked off a fantastic solo career after the Kirsten & Søren /Hot Eyes days. In 1990, she took part in the Danish final solo with the song Inden Længe. With that song she put the traditional up tempo pop songs behind her, and moved onto a new path. She took on several musical roles, where in particular her take on Edit Piaf earned her much critical acclaim. Later she also threw herself into for example swing as part of the female trio Swing Sisters.
Søren Bundgaard continued as an active songwriter and producer. He wrote Denmark's 1989 entry performed by Birthe Kjær to a third place at the Eurovision Song Contest. He started a studio together with Denmark's triple participant Tommy Seebach, worked for a big record label – and in recent years, he has been living in Italy where he still produces music.
Kirsten & Søren (Hot Eyes) six Melodi Grand Prix entries
1983: Og Livet Går finished 7th in the Danish national final
1984: Det' Lige Det won the Danish final, and finished in 4th place at the Eurovision Song Contest
1985: Sku' Du Spørg' Fra No'en? won the Danish final and finished 11th at the Eurovision Song Contest
1986: Sig Det, Som Det Er finished 4th in the Danish national final
1987: Farvel Og Tak finished 5th in the Danish national final
1988: Ka' Du Se, Hva' Jeg Sa'? won the Danish final and finished in 3rd place at the Eurovision Song Contest