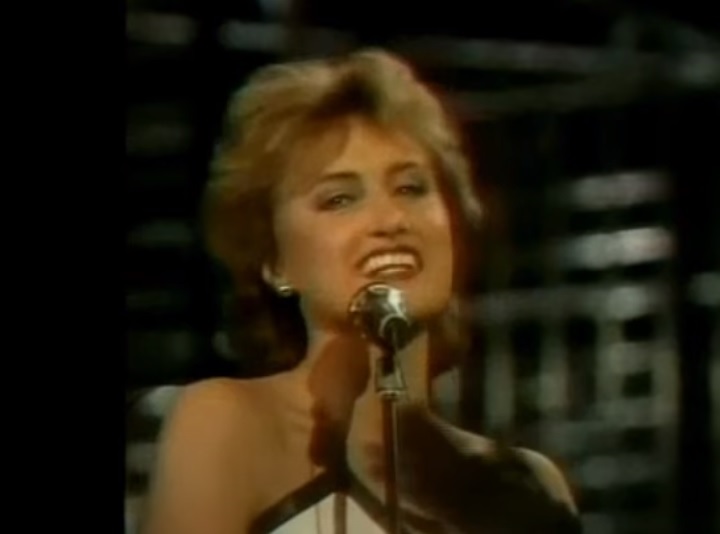 Some Eurovision fans think about ABBA when they hear Finland's 1983 entry 'Fantasiaa' by Ami Aspelund. The song is briefly about a young woman watching a man with his dog in a park. She questions herself whether she is having a crush on him or not.

YLE, the Finnish broadcaster, organised a National Final to select their entry for 1983 Eurovision Song Contest in Munich, Germany. The final took place on the 28th of January 1983 in YLE studios with 10 finalists. Ami Aspelund competed with two entries in the national final. Aspelund's midtempo pop song Fantasiaa won the night and got the honor of representing Finland in Eurovision 1983.
The 1983 Eurovision Song Contest happened on the 28th of April 1983 in Munich, Germany. Ami Aspelund took the stage 9th in running order and performed her song. Eventually, Finland received a total of 41 points and became 11th of the 20 entries. The highest number of points received from a single country, were points from Greece. This was Finland's best entry since 1977.
Fantasiaa – opinions from fans
In order to find out what Eurovision fans today think of this Finnish entry from 1983, we asked our Eurovision Fan Panel. It includes team members as well as fans from all over the world.
🇵🇹 Linete A. – Really sounds like a Finnish version of an ABBA song. I really like the melody and energy of the song! She has a nice voice and it reminded me of ABBA from beginning to end. The male trio added nice sounds to the song. Very typical eurovision song for those years, but very nice to listen to.
🇨🇴 🇫🇮 Alvaro S. – An intriguing sound and a super catchy chorus, Fantasiaa is still a song that is played in Finland when the fans meet to remember some of the classics this Nordic country has brought to Eurovision. It is simply a classic.
🇩🇰 Charlotte J. – I am split when it comes to this one. It does have moments which I find extremely cute such as the chorus, but the verses I am not too keen on. All in all it gives an okay song which I can enjoy listen to once in a while, but it's not one I would put on myself.
🇧🇪 Enis H. – I really like this entry, it gives me ABBA vibes. I feel like they did a great job with entry, it deserved more than an 11th place.
🇳🇱 Frank S. – I simply LOVE this song and I cannot explain why… It's just always when I hear this song it makes me happy! First of all I love the orchestration! The music played by this amazing orchestra is – however very outdated these days – so good!
Ami Aspelund sings this song impeccable together with the backing vocals. And even though I really don't speak one word of Finnish: I know every word and sing a long LOUD!
My opinion: YES – YES – YES!
🇬🇧 Michael O. – From a country that really hasn't grasped what it takes to win Eurovision, this is one of their better attempts. A nice pop song for its time, but really just average overall.
🇹🇷 Gunec G. – A very nice entry from Finland. The song is very catchy. I like the strong orchestration and Ami Aspelund's sympathetic appearance and positive energy on stage. And btw I love the Finnish language.
🇬🇧 Paul G. – I still love this song even now. An absolute classic entry from Finland.
Enjoy Ami Aspelund's performance from the 1983 Eurovision Song Contest in the embedded video. Below the video, you can read more about her.
Ami Aspelund – a mini biography
Anne-Marie (Ami) Aspelund was born in Vaasa Finland on the 7th of September 1953. She is the younger sister of Monica Aspelund, who represented Finland in 1977. Her first single Apinamies was released in 1973. Apinamies is the Finnish version of Jungle Jim's Big Fat Orang Uman.
Her debut album Ami was released in 1974. She participated in Rostock Festival in 1981 and Knokke Song Contest in 1985. Her Eurovision Entry Fantasiaa was also released in English under the title Fantasy Dream. With the the Finnish version, she finished 11th at the 1983 Eurovision Song Contest.
Aspelund released many albums and singles throughout her career, sung bot in English and Swedish. Her latest album released was in 2005. The album was called Parlor.