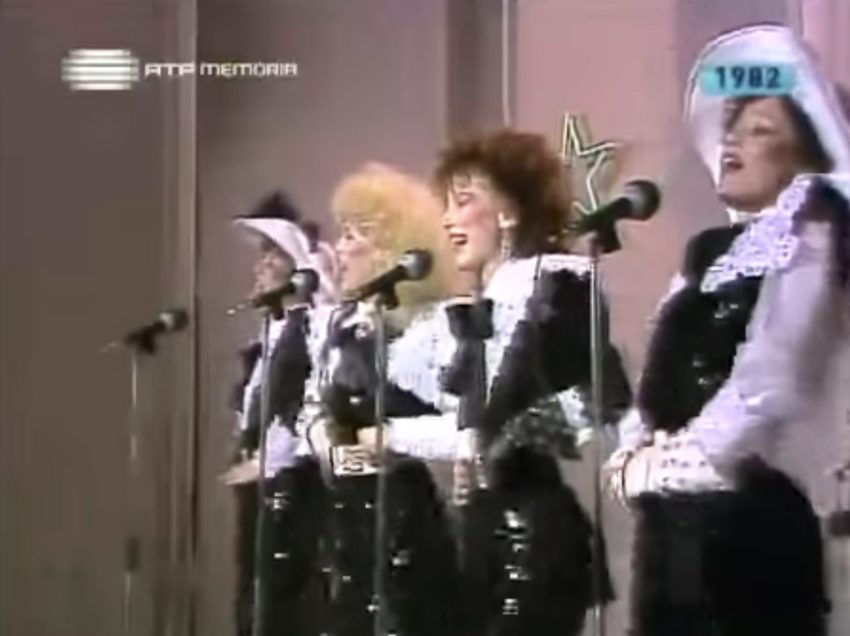 The last song to perform in the Eurovision Song Contest 1982 won, but the group who opened the contest, Doce from Portugal became winners at home after the release of their entry 'Bem Bom'.
On March 6, 1982, Portuguese Television (RTP) broadcast the Festival da Canção for that year from the Teatro Maria Matos in Lisbon. Twelve acts competed, with the winner being Song 10, Bem Bom by Doce. This gave them the right to represent Portugal at the Eurovision Song Contest that year.
On 24 April 1982, looking rather dashing in their musketeer costumes, the female quartet opened the contest, from Harrogate, United Kingdom. Gaining top marks of 7 from Luxembourg, 6 from Sweden and 5 from Turkey, the group ended up with 32 points, leaving them languishing in 13th place out of 18.
Bem Bom – opinions from fans
In order to find out what Eurovision fans today think of this Portuguese entry from 1982, we asked our Eurovision Fan Panel. It includes team members as well as fans from all over the world.
Michael O. – Well no-one can object to Nicole winning, but what on earth happened here. The most radio friendly song in the competition, easy to remember lyrics and great harmonies should have meant for a change that Portugal should have been up with the front runners this year. A superb entry.
Quique B. – RTP tried to look modern, but they failed. It's an ugly song, sung by four girls with not very good voices, dressed by their enemy and with a silly choreography. In favor of them I could say that 1982 wasn't a good year for fashion and BBC also didn't collaborate with a quality sound. 39 years from now, most songs of this year look like that.
Linete A. – This was a very popular song from Portugal and still is today. It was a very lively entry from Portugal and different to the many ballads they usually sent. The female group sang well with nice harmonies and an interesting choreography and costumes. One of my favourites from Portugal.
Gunec G. –  A very joyful, happy song from Portugal. The girls' ABBA costumes are remarkable. However, I like ballads from Portugal and this song does't feel Portuguese at all except those Vasco da Gama hats.
Charlotte J. – I didn't remember this one. Probably because 1982 actually was quite a bad year with only a handful of songs I like, and this unfortunately isn't among them. The 1980's was MY Eurovision decade with plenty of songs, my friends and I would sing along to when we met in the school yard to discuss Eurovision… but this one, no, sorry Portugal. I really don't like it.
 Christopher D. – Sorry, I was totally bored listening to this song. To tell the truth I am not a big fan of Portugal's entries, apart from Fiordalise and Vania Fernandez. But this song is one of their worst entries I think. It is repetitive, and goes nowhere during its three minutes. A definitely no no.
 Michael R. – I usually hate these types of entries but this one isn't that bad. There's nothing intellectual about it but it feels a little bit like an actual song rather than a novelty act. Still it isn't one of Portugal's finest moments.
Josef S. –  A completely new song to me, let's start with that. And what a surprise it is. Quite catchy and pretty good harmonies. Maybe only the costumes could be different as they don't match with the song for me.
There are one or two copies of Doce's performance at Eurovision on YouTube that you can search for. RTP have released this version of the song, which is similar to their performance at Harrogate.
Doce – a brief biography
Doce comprised of four ladies, so they were one of the earliest girl bands from the eighties. The members included Fátima Padinha, who was married for 18 years to Portuguese Prime Minister, Pedro Passos Coelho.  Today Fátima is struggling with her health, having been diagnosed with breast cancer in 2017. Along with Teresa Miguel, she had also been a member of Portugal's entrants, Gemini in 1978. The group was completed by Laura Diogo and Lena Coelho, who had prior been in a group called Cocktail.
Prior to Eurovision 1982, the band had already tried to represent Portugal twice. The self titled Doce had been up for Portugal's entry in 1980. The band also released two albums, OK KO and É Demais. They had also released 5 singles of which Ali-Bábá (Um Homem das Arábias), which they tried to represent Portugal with in 1981, had done particularly well.
Third time lucky in 1982, they represented Portugal at Eurovision with Bem Bom. Afterwards they started to tour Europe and released more singles. There were no more albums but starting in 1987, various compilations started being released containing their more popular songs.
The group started to disband in 1987, but last year a movie, Bem Bom was due to be released, documenting the groups antics through the years. It was delayed because of the COVID crisis, but is expected sometime later in 2021.