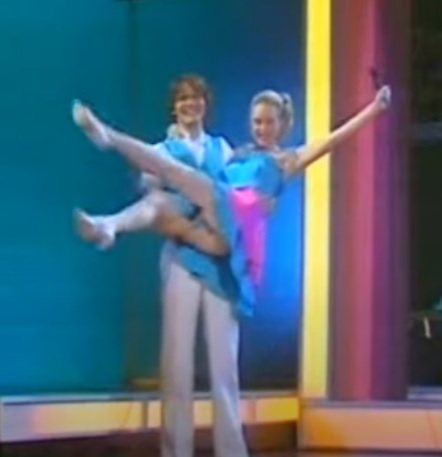 Austria is one of the major countries of the Eurovision Song Contest with their 53 participations and two victories, in 1966 and 2014. Today's focus is on their joyful entry from 1982 'Sonntag' by the group Mess. Some fans find it sweet, catchy and joyful but it obviously didn't appeal to some others.
Austrian broadcaster ORF held a National Final on the 25th of March 1982. Twelve entries fought for the right to represent Austria in Harrogate.
The final took place in ORF Zentrum in Vienna The show was hosted by Andreas Steppan. After the performances by 12 artists, 290 people voted by telephone and Sonntag by the group Mess won 1655 points and earned the honour to represent Austria in the Eurovision Song Contest 1982. Sonntag was written by Rudolph Leve and composed by Michael Mell, who is a part of the duo.
In Harrogate, the duo took the stage 10th in running order. After their joyful performance of uptempo dance song Sonntag on stage, Elisabeth and Michael received 57 points and brought 9th place for Austria.
Sonntag – opinions from fans
In order to find out what Eurovision fans today think of this Austrian entry from 1982, we asked our Eurovision Fan Panel. It includes team members as well as fans from all over the world.
🇵🇱 🇯🇪 Pawel J. – I simply love this song, it makes me feel very happy every time I listen to it. Just a typical 80s Eurovision – couldn't be more perfect. I must admit I do jump around when it comes on – love it, love it, love it. For me it's definitely one of the best entries from Austria.
🇫🇮 Martti I. – For this year just an catchy number to watch, listen and sing along… Yes definition of a perfect Eurosong. Loved it then as much as today and wow Indeed, thanks for choosing this.
🇩🇰 Charlotte C. – 1982 wasn't a very strong year, and no doubt that Germany had the best song in Nicole's Ein Bißchen Frieden. The Austrian entry is nowhere near the same quality. It's too bubblegum for me and they are smiling so bright that it becomes unnatural. I do love the 1980s, but not this entry. Sorry, Austria.
🇹🇷 Gunec G. – I was 11 years old in 1982 and I remember dancing with their moves to this song :). Catchy, sweet and memorable for me. I was expecting it to do better.
🇬🇧 Ashleigh K. – I hadn't heard this song before today but its very charming. I like the melody and the choreography works well with it despite it obviously being a bit dated now. A really nice entry from Austria.
🇬🇧 Michael O. – As happy and bouncy as can be, but not quite as good as our duo Bardo. Sing-along and catchy, as squeaky clean as some fresh laundered linen.
🇨🇴 🇫🇮 Alvaro S. – This performance is so bland for my taste. Although I like to have some sugary coated acts every now and them like Austria did in 2016, even for my taste this was a little bit too much. They looked so cute that it looked artificial. Almost like a parody of Grease the film.
🇨🇿 Josef S. – From time to time, we can spot some childish songs at Eurovision. And that's also the case of Austria 1982. It is very childish, but also joyful and playful. If it would have been Junior Eurovision, I would say it's exactly what would I expect, including the silly dance. But definitely not for an adult song contest. But for fun, it's not that bad.
🇪🇸 Mária P. – I like this lively and cheerful entry, quite typical of the eighties. The song is a bit repetitive but nice anyway, and the performance was good. The colourful clothes and the kind of dancing give the whole thing a naive and charming touch. Fair result at the end, in my opinion.
Enjoy Mess's performance from the 1982 Eurovision Song Contest in the embedded video. Below the video, you can read more about them.
Mess – a mini biography
The duo consisted of Michael Scheikl, aka Fritz, and Elisabeth Engstler. Michael, born on the 23rd of March 1957 is an Austrian singer, composer and record producer. He has composed and produced many tracks for the Austrian trio Joy and sang backing vocals on their album Enjoy. He has 1 album (Fritz 1981) and many singles.
Elisabeth Engstler, aka Lizzi, was born on the 6th of May 1960 in Villach Austria. She has many albums and singles including Hold Me Touch Me, Du, and Lonely. She is currently working as a presenter for ORF.
The duo were once married but now divorced.