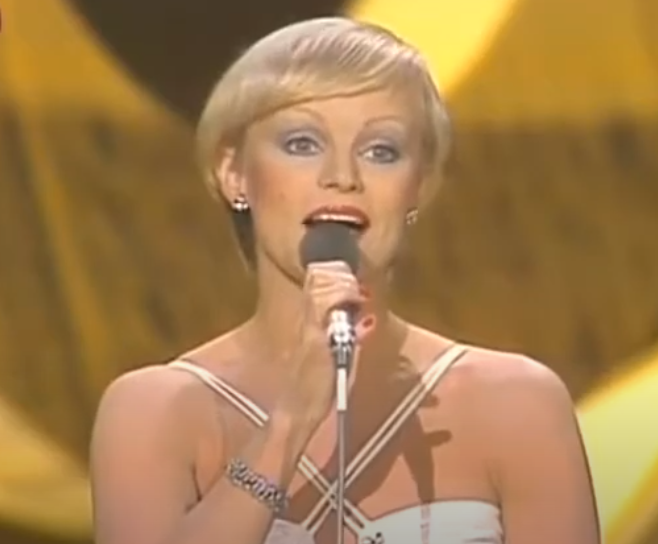 Finland had its ups and downs throughout their 53 participations in the Eurovision Song Contest. They saw several zero points as well as a few top 10s and a victory in 2006. Today we will focus on their 1979 entry "Katson Sineen Taivaan" by Katri Helena and try to find out why it did so poorly, while many fans still seem to like it after 43 years.
Finnish broadcaster YLE organized a National Final on the 10th of February 1979 to select their entry for Eurovision Song Contest. The National Final took place at the Kulttuuritalo in Helsinki and was hosted by Marjatta Leppänen. Among 6 entries, a 30-member jury chose Katson Sineen Taivaan performed by Katri Helena to represent Finland at the Eurovision Song Contest 1979 in Jerusalem. Markku Aro (Finland 1971) and Kirka (Finland 1984) were also among the competing artists.
In Jerusalem, Katri Helena took the stage 5th in line in her white dress and performed her power ballad Katson Sineen Taivaan. Eventually, she received 38 points and placed 14th.
Katson Sineen Taivaan – opinions from fans
In order to find out what Eurovision fans today think of this Finnish entry from 1979, we asked our Eurovision Fan Panel. It includes team members as well as fans from all over the world.
🇫🇮 🇨🇴 Alvaro S. – A great voice and a song that grows with the chorus. Vocally speaking this must be a tricky song to sing live, and she delivers. This is one of the songs that makes you miss the live orchestra. Flawless.
🇨🇿 Josef S. – I love Finnish language so their songs from old decades are something I like quite a lot. And that's also the case of 1979. I love the mystic air around the song, the melody flows, Katri sings perfectly and the overall combination with her backing vocalists is just perfect. And do I have to mention that she looks gorgeous in those white dress? ❤
🇹🇷 Gunec G. – As a 70s child, I love everything about the 70s music. Eurovision was a different event with it's songs, artists, conductors, orchestra and everything. These were my feelings when I watched Katson Sineen Taivaan again. The song is very 70s with its powerful orchestration, back vocals and melody. As per the performance, Katri Helena looks like a beautiful and elegant white daisy on stage. After a soft start of the song, Katri shakes us with that strong ending. Absolutely love it.
🇩🇰 Charlotte J. – Finland often gets it wrong at Eurovision. It's rare that their songs appeal to me. This is one of the many. It's too bland and too boring.
🇮🇪 John D. – I didn't rate this highly at the time but hearing and seeing her performance again I quite like it. Maybe it's the nostalgia element. The structure of the song is similar to Germany's Genghis Khan only slower. The Finnish language was always a barrier to success in the past but much preferred to any pidgin English if it was translated. Finland in 76, 77 and this entry in 79 should have placed higher.
🇸🇪 Sara T. – This is a nice little song that I should listen to more often. I like the build up in the beginning, and I also like the powerful ending. The melody sticks immediately and goes well with the rest of the song. I like the mysterious vibes and the mix between different moods.
🇫🇮 Martti I. – Finland finally chose our popular artist Katri Helena for Eurovision. The song was a positive uptempo entry. And the whole nation was in front of TV sets waiting for a great placing and yes IT came. I liked the song then, and I still do. 1979 was a great year; pretty high standard national final and international final too in my opinion.
🇺🇸 Grace W. – My birthday twin! The song itself is okay, just not my style. The entire 1979 contest was below average, but Israel was a deserved winner.
🇩🇰 Tina M. – Another song I had completely forgotten. Thanks for this reminder. The song has some dramatic undertones which I think fits really well in the whole. The song is sung incredibly beautiful and safe by Katri Helena and I could have wished the song had got a better ranking than No. 14 in the finale. A song I like. 6/10.
🇬🇧 Michael O. – This was as good as any Finnish entry of the seventies, in one ear and out the other, and to be honest their entries are generally much the same 40 odd years later.
Enjoy Katri Helena's performance from the 1979 Eurovision Song Contest in the embedded video. Below the video, you can read more about her.
Katri Helena – a mini biography
Katri Helena Kalaoja was born on the 17th of August 1945. She started her musical career in 1963. Her first records sold over 630.000, and this makes her the second best-selling female artist in Finland, after Madonna. She is also among the 20 best-selling musicians in Finland. She represented Finland in Eurovision twice: In 1979 with Katson Sineen Taivaan and again in 1993 with Tule luo. She also finished the Finnish National Finals in 1969, 1972 and 1978 as runner-up.
During her career she's released many singles and albums. As per her tragic personal life: She has been married three times. After the death of her husband Timo Kalaoja in 1988, she withdrew herself from the public eye and stopped all her musical works. To make it even worse, she lost her only son Juha Kalaoja at the age of 33 on the 29th of April 2009.