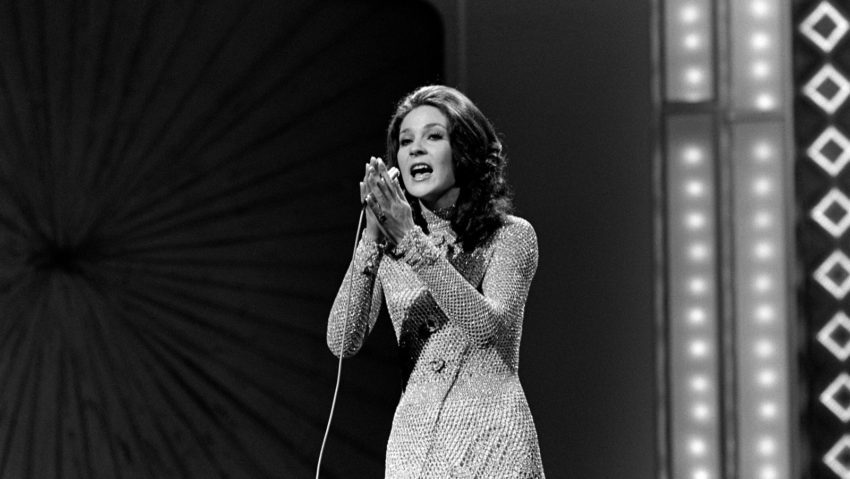 1972 saw the contest held in the Scottish capital of Edinburgh, the first time the contest was held outside of London in the contest's history to that date. It was also the first year that Ireland celebrated their native language when they sent accomplished Singer Sandie Jones to the contest with her song 'Ceol an Ghrá'.

Ireland entered the contest for the first time in 1965, yet surprisingly it took them 7 years before they would send a song in their native language. Even more surprising is that they have still to send another song in Gaelic. The song written by Liam Mac Uistin was a love letter to his wife and focussing on the mythical land of Tír na nÓg, known as the land of the forever young.
Broadcast on February 13th 1972, The National Song Contest was hosted by RTE favourite Mike Murphy in the Cork Opera House. The date of the contest could have been an good omen, as the day after was Valentines day and the song when translated means The Music of Love. Ireland went on to finish in 15th place in Edinburgh and at that time was their worst result, although at home the song was an instant hit reaching number one on the Irish charts.
Ceol an Ghrá – opinions from fans
In order to find out what Eurovision fans today think of this Irish entry from 1972, we asked our Eurovision Fan Panel. It includes team members as well as fans from all over the world.
William S.
Coming from the protestant dominated North, Gaelic is not a language that you hear all that much. Especially if you grow up in the political background I did. This meant that hearing music in the Irish language was a no go. I think that is why I adore this song so much now, I originally was able to listen to it with little understanding of the lyrics yet the melody was beautiful and Sandie's voice was a beautiful accompaniment. A real Eurovision gem and I hope many more get to hear this song now.
Michael O.
Back to the good old days when there were no pyrotechnics to get in the way of the songs. This was a pleasant song well of it's age, and great to hear a different language at Eurovision. However with the might of the entries from Luxembourg, u.k, Germany and Netherlands that year, sandie got a bit lost in the crowd
Charlotte J.
Though I consider myself quite an 'old fan' this one is from before I was born, and I am not sure, I ever heard it before. Thank you for bringing it to my attention though. I like it. In particular I love the chorus which I find extremely sweet and adorable, and it sounds like it's easy to sing a long to – though I think, I would be unable to pronounce one word correct in Gaelic
Theo V.
'Very sweet and sounding of its time. The overall style is reminiscent of Irish 1970 winner All Kinds Of Everything. I personally like the fact it is sung in Irish, too. Judging by its ranking, it may not have made the entry any favours with the juries however. It does not go anywhere too far as a song but, still, very pleasant.'
Alvaro S.
the song is easy to listen although after the first verse it sounds a little bit repetitive. The aesthetics of the performance are simple- a sign of the early contests- that contributes to the atmosphere. Also some bonus points for singing the first and only entry sung in Irish for the contest.
Ashleigh K.
This is the first time that I have heard this song and also the first time I've heard a song in Gaelic. I like it a lot though the melody reminds me of something and I can't put my finger what it is. Anyway, this type of song has been all but forgotten in Eurovision, thank you for bringing it to my attention.
Paul K.
Where do i even begin? First off, it makes me extremely proud to know that this was sung in Irish way back in the golden years of eurovision! We need to send more songs in the Irish language cause I feel that we could do so well! Second thing is the song itself is absolutely beautiful. She has an amazing voice, the melody is so blissful and it was all
cohesively brought together on the night. This should have done so much better than it did and she deserved more! I'm giving it a 9/10 cause i love it so much. I'm glad we sing Irish songs in JESC (banshee is my favourite from us in that
contest) but it needs to be back for ESC. Tá mo chroí briste!
Martti I.
One of the real Eurovision pearls. Have strong place in history being still only entry on gaelic. Very beautiful,If not a perfect song. Loved it then as a kid watching my 2nd eurovision from tv. This was my winning candidate and it still is my favourite from 1972. Lately just as now listening and singing along and noticing the power of language. Simply stunning Song from Ireland. If only…
Maria P.
It's my favourite Irish entry and I love both the song and the performance. It's so sweet and pleasant, and I don't understand such a difference with Ireland 1970 in the result. Nice that Ireland was represented in Irish, I love linguistic plurality and cultural diversity in Eurovision.
Christopher D.
It is quite a surprise to hear the representative of Ireland singing in Irish. Unfortunately this has never happened again in the following years. It is a simple melodic song, which obviously would not attract attention in the current competition. Lately Ireland are choosing more contemporary acts and radio-friendly songs, so I do not think that we will see a song in Irish in the near future. English seems more of a safe choice for Ireland.
Enjoy the performance from Sandie Jones at the 1972 Eurovision Song Contest. Below the video, you can read more about Sandie Jones.
Sandie Jones

– A mini biography

By the time Sandie took to the stage in Edinburgh, she was already a household name in Ireland. She was part of the ever-popular Showband scene travelling all over the country to perform at premier venues. She started singing with bands such as The Royal Earls and The Dixies in the late 1960's and early 1970's. Her career then continued throughout the rest of the 70/80s and she had another major hit with the song What Do I Do, a cover of the 1972 Dutch entry, which reached number one in the Irish Charts a month after Ceol an Ghrá.
At the height of her career she left Ireland to travel internationally to pursue more opportunities and settled in the USA, never reaching the heights of her success in the early 70's. Unfortunately, on September 19th 2019 Jones died at the age of 68.