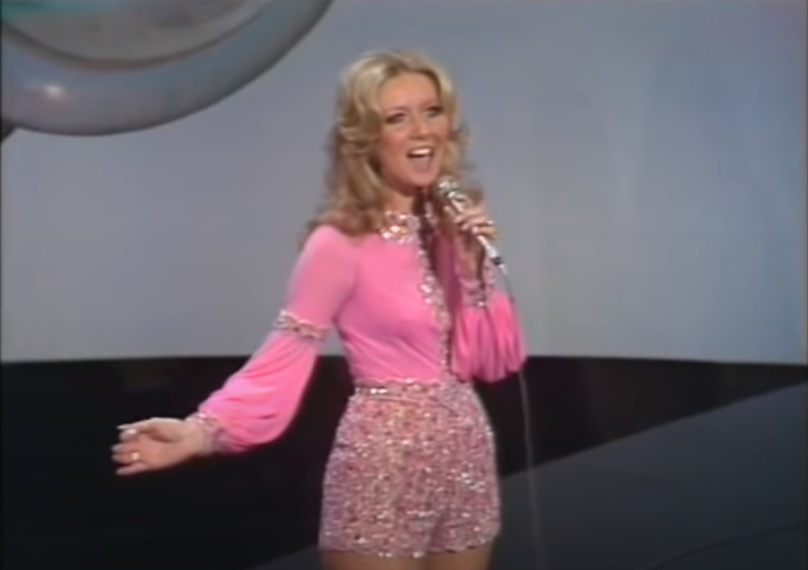 24 year old Clodagh Rodgers from Northern Ireland was chosen to represent United Kingdom in 1971. The song was pretty much a standard recipe from that time, and not all fans are equally impressed with that.
According to John Kennedy O'Connor in his book Eurovision Song Contest – The Official History, the reason that BBC selected a Northern Irish artist for Eurovision was concern over the reaction the UK entrant would get on stage from the Irish Public. As a Catholic Irish young woman, she even received death threats from IRA.
After the British broadcaster selected the Northern Irish star Clodagh Rodgers to represent UK in 1971, she performed six entries weekly before the final presentation of those entries in the Song For Europe part of the popular TV show in BBC 1 It's Cliff Richard. Clodagh Rodgers performed the songs and Jack in the Box earned the ticket to Dublin to represent the United Kingdom.
Rodgers took the stage 9th in line in Dublin. She wore a pink costume consisting of long armed top and short shiny pants. Her catchy uptempo pop song Jack in the Box received 98 points which brought the UK a 4th place.
Jack In The Box – opinions from fans
In order to find out what Eurovision fans today think of this British entry from 1971, we asked our Eurovision Fan Panel. It includes team members as well as fans from all over the world.
🇩🇰 Charlotte J. – This is a catchy up-tempo song of the kind we could count on United Kingdom to deliver at that time. It's easy to sing along to. Whenever someone throws the title at me, I can start singing the chorus. It's not one I listen to though, time has run away from this one. Here in 2020, it comes across as boring to me. But it's catchy, no doubt about that.
🇹🇷 Gunec G. – The UK entry of the year I was born 🙂 I find Clodagh Rodgers a revolutionarist with her costume, her style and everything. A very corageous woman determined to perform her art no matter what. As per the song, I love the happy, positive mood of the song.
🇬🇧 Steve P. – The BBC asked the Northern Irish born singer to represent the UK in Ireland, and the public gave her a song typical of the style the UK sent in that period. It's instantly catchy with the big brass intro immediately grabbing the listeners' attention. The rest of the song does enough to maintain interest before ending with a bang. There are certainly worse ways to spend three minutes than listening to Jack In The Box, it's just a shame the lyricist got lazy towards the end with all those la la las!
🇫🇮 🇨🇴 Alvaro S. – Although my favourite from this year was Karina I can appreciate the joy in the entire performance. It was not the most competitive song coming from the UK from that decade, but it deserved a top 5. It is an easy to enjoy song.
🇵🇱 🇯🇪 Pawel J. – I am not fan of this song. It's a nice enough number but somehow I find this very forgettable and it's just "going nowhere" for me. Nothing against the singer herself of course. Her participation sparked a bit controversy and security issues at the time due to unfortunate political differences between the UK and Ireland. It became her most famous hit. But for me, it's not one of my favourite UK entries.
🇬🇧 Michael O. – One of great female singers from the seventies. I preferred Wind Of Change or Someone To Love Me, as Jack In The Box was too near to Puppet On A String (UK 1967), but Clodagh gave her best and did well coming 4th. Better singer than the song.
🇨🇿 Josef S. – This Eurovision classic is very happy and makes you dance almost immediately. And that's something I really like. Plus the pink dress is quite classy. Definitely a song I would be willing to listen again and again.
🇫🇮 Martti I. – And another Eurovision happy song? After it ends you wonder how was it like! Yep quite easy to forget and the performance didn't help one bit. Pity as there was quite a lot stuff they could have used.
🇪🇸 Quique B. – UK followed with the style that gave them their first triumph after so many attempts in 1967. Not always they were so lucky composing and this one was probably their worse in those years (1967-71). Anyway Jack In The Box is a funny and happy song that offered also the plus of showing the singer long legs. That was not enough, Monaco, Spain or Germany were much better.
Enjoy Clodagh Rodgers' performance from the 1971 Eurovision Song Contest in the embedded video. Below the video, you can read more about them.
Clodagh Rodgers – a mini biography
Clodagh Rodgers was born on the 5th of March 1947 in Ballymena North Ireland. She started her singing career at the age of 13 with support from her father whose profession was a dancehall tour promoter. Her active career from 1961 till 1981 consists of festivals, musicals, single and album projects, TV shows and concert tours.
Among Clodagh Rodgers' all time hits are Only You Can and Imagine Me, Imagine You. Her debut single was Believe Me I'm No Fool" / "End of the Line (1962). Her debut album is Clodagh Rodgers (1969). The latest album Save Me was released in 1977. After that she has released two compilation albums in 1997 and 2012. Person to Person" / "My Simple Heart was released as single in 1980.