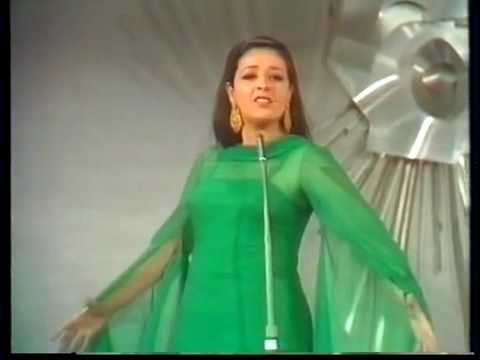 Madrid 1969 will be forever known as the year of the four-way tie, yet many songs were lost in the hectic end of the contest, songs that in their respective countries became massive hits.  One of those particular entries, was Portugal's Desfolhada Portuguesa, by legendary performer Simone De Oliveira.
By the time Madrid hosted the 1969 contest, Portugal had established itself as an original country when it came to sending entries with national flare to the contest.  Simone De Oliveira had already taken part in the contest for Portugal, four years earlier, and has the title of being the first artist to score any points for the Iberian nation.  What can not be denied is that Portugal always stays loyal to its own unique cultural style and music when it comes to Eurovision and it did finally pay off for them when Salvador Sobral won in 2017.
At the end of the tense voting sequence, Portugal finished the night in 15th place with a total of 4 points, three more points than her first appearance yet she ended up to places lower on the scoreboard.
Desfolhada Portuguesa became a major national hit after the contest. The song was written by Nuno Nazareth Fernandes and famous poet Ary dos Santos, known for his political poetry in the mid to late 20th century.
Desfolhada Portuguesa – Opinions from fans
Martti I.
One of Portugal's superb entries, If not even the best one. Here is everything that you could hope for and then even an artist with such a talent and charisma. I love songs like this. Three minutes filled with such amount of passion, Oh My indeed. We haven't seen that since Simone. 12 points!
Michael O.
More of the usual old fashioned stuff from Portugal and in a year where four songs, all of the different styles won, there was no way this was going to be a favourite. Nah not for me.
Tina M.
A very beautiful and powerful song from Simone de Oliveira from Portugal, who participated in Eurovision in 1969 with the song "Desfolhada".
Simone shows her great singing talent. For some, the song can appear very theatrical in the way it is performed, but for me, it is all about emotions, and Simone de Oliveira delivers it to perfection. A true musician, who gives 100% on stage. The live orchestra supports the song in the best way – a beautiful, fantastic, melodic song, that I like. 7/10
Amira M.
Hearing this song for the first time I like the singer's powerful voice. It is interesting to note that the backing vocalists are wearing red, the guitarist is wearing yellow and the singer is wearing green where these are all colours to symbolize the Portugal flag. I like the way this song is sung with such feeling.
Kostas C.
I like everything about this song. The music, the singer, the appearance. Not another boring ballad from this country. For me, it could be a 5th winner that night. Despite I don't like the sound of the language in general, at this song I don't have a problem. I will search versions of the song at other languages. Personally I find it as one of the best entries of Portugal.
Charlotte J.
I like her vocals, and I like the music. But to me, this song hasn't 'aged well'. It's too dated for me to be able to fully connect to it. Unfortunately, because I do actually like it when listening to it.
William S.
Simone delivers one of the most impressive and professional performances of any song at any contest.  Her ease at performing coupled with her ability to act a song gives this performance a gravitas that creates a last memorable entry for years to come.  For me, this is one of my favourite all-time entries.
Alvaro S.
1969 was a very competitive year and I am not talking only to the 4 winners. This song, the best one from Simone de Oliveira has this elegant, powerful sound. From the first verse to the powerful ending Simone's interpretation is captivating.
Ashleigh K.
It's not that I can't see the charm in this entry from Portugal but unfortunately, it doesn't grab my attention. It feels and sounds a lot older than a 1969 entry. I'd have guessed the mid-1950's. I'm sorry but I was waiting for it to end about a minute into the song.
 Mini Biography – Simone De Oliveira
Simone De Oliveira was born and raised in Lisbon to a mother from San Tome and Principe mother and a Belgian father.
Starting her singing career in the 1950s, Oliveira grew to popularity in the 1960s with the help of her two performances in Eurovision in 1965 and 1969.  She was chosen to represent Portugal at the 1980 OTI Festival which was held in Buenos Aires, she finished 9th with 14 points.
Oliveira went on to great success in both music as well as acting and made several film and stage appearances during her career.
She is also a cancer survivor having battled breast cancer twice.