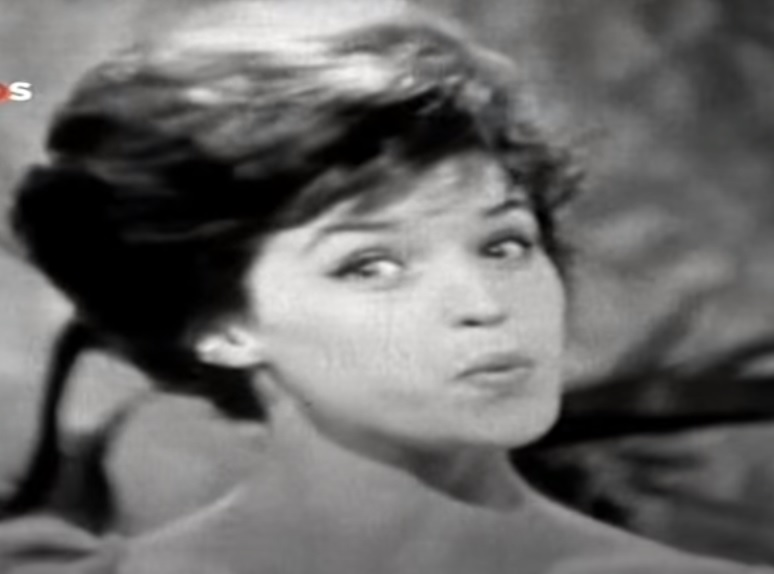 It's already April, and we will focus on an entry just reflecting the mood we need today. Sweden, one of the most successful countries in our beloved contest has been a loyal family member since the 3rd edition of the Eurovision Song Contest in 1958. One of their earliest entries is 'April, April' by the gorgeous Lill-Babs.

Sweden's traditional and legendary national final Melodifestivalen was organised for the 3rd time in 1961. The final was broadcast on Sveriges Radio TV. However, it was not broadcast on the radio. Five songs competed and each was performed by two artists. At the night of the show, Siw Malmkvist singing April, April won the final. Eventually, it was decided that Lill-Babs would sing April, April in Cannes, France.
The 6th Eurovision Song Contest took place in Cannes, France on the 18th of March 1961. Lill-Babs of Sweden took the stage 7th in line and sang her joyful lively song April, April. She only received two points and placed 14th.
April, April – opinions from fans
In order to find out what Eurovision fans today think of this Swedish entry from 1961, we asked our Eurovision Fan Panel. It includes team members as well as fans from all over the world.
🇩🇰 Charlotte J. – Ah, the classic Lill-Babs. This song is cute, and I like her performance. It doesn't stand the time as certain other songs from the early 1960s though.
🇬🇧 Steve P. – Firstly, congratulations must go to Lil for having the courage to whistle during a live performance (always risky, and assuming it was actually her) and especially for pulling it off. No mean feat! To me, this is an early sign of Sweden's sense of fun which has characterized many of their entries — although not so much recently! I've always believed that Eurovision took a bit of time to move out of the 1950s and into the 1960s, and this is an early and successful attempt to sound more contemporary.
🇷🇸 Milosav T. – Oh, the times when everybody sang in their own language, and you couldn't understand most of the songs…miss them! This is such a typical ESC song, which by no means makes it a bad one. The singer is cute, and she learned how to whistle for the song! Excellent effort for Sweden for the time, much better than the generic stuff they've been sending lately.
🇹🇷 Gunec G. – What's better than listening to Lill-Babbs whistling and heralding spring and April 🙂 The song gives you full joy and positive energy and that's what I love about it. WELCOME to SPRING.
🇩🇪 Andrew G. – In a year when most of the songs sounded the same, meaning classy 60s ballad or jolly bubbly schlager,  this entry blends in with the rest. I like it but no more than the other happy songs in the evening. I love the meaning of the lyrics going from winter to spring. This is no April fool.
🇮🇱 Adi S. – One of many songs from that time that sound like children songs, and not because they are trolling… It's cute, but I'm glad the competition left those immature vibes in the past.
🇬🇧 Michael O. – Whistling and a chirpy little number from Swedes' answer to Shirley Bassey. Like most songs from Eurovision from the sixties, this is as dated as its black and white performance, but it's good enough to put a smile on your face.
🇫🇮 🇨🇴 Alvaro S. – I love it! It makes me immediately happy with the tune and the whistling from Lill-Babs. This is my second favourite April song from this year, the first being France's Printemps, avril carillonne. April, April is lovely and Lill-Babs looks so care free and happy when she performed her song in 1961.
🇸🇪 Jill R. – Back in 1961, Melodifestivalen was very different from now. Then the songs were competing, not the artist, so each song was sung by two different artists. April, April was performed by both Siw Malmkvist and Gunnar Wiklund. Siw Malmkvist was very liked by the audience, but she lost some lyrics, giggled and flirted a bit with the crowd, so the press accused her of getting plus points because she was "monkeying around". So instead Lill-Babs was chosen to perform Eurovision. She was also one of the performers in Melodifestivalen that year. But she couldn't even whistle. It is rumoured that she was selected because she was prettier. Lill-Babs was certainly charming and a good singer too (and eventually learned to whistle). In Sweden, she became a loved icon and kept on charming audiences until her death three years ago. To me, it is a mystery why April, April didn't get more points. The song is still played in Sweden and is as charming as Lill-Babs. I was born long after 1961, but I don't even recognize any of the other songs from that year, not even the winner. I am probably biased, but I think April, April should have been in the top. But should it have been performed by Siw instead? Maybe – she is also charming and a good singer. By Gunnar? No.
Enjoy Lill-Babs' performance from the 1961 Eurovision Song Contest in the embedded video. Below the video, you can read more about her.
Lil-Babs – a mini biography
Barbro Margareta Svensson aka Lill-Babs was born on the 9th of March 1938 in Järvsö, Sweden. She led a very poor life with her parents as a child. She started singing at a church at the age of 11. In the 50s, she started singing with Lasse Schönning's orchestra. A musician and record producer Simon Brehm discovered her in 1954 and gave her the stage name Lill-Babs. In 1954, she released her first album.
Five years later, in 1959, she released her first major hit Är du kär i mej ännu Klas-Göran? She also took stage in some theatre plays. In 1961, she represented her country in the Eurovision Song Contest with April, April. She met with The Beatles during the teen music show Drop-in in 1963 and the group members asked for her autograph 🙂
Lil-Babs released many albums and singles until 2005 and starred in various TV shows. Sadly, she passed away after a long battle with cancer and due to heart failure on the 3rd of April 2018. She is currently one of the iconic artists in Sweden, and is featured in the hall of fame.