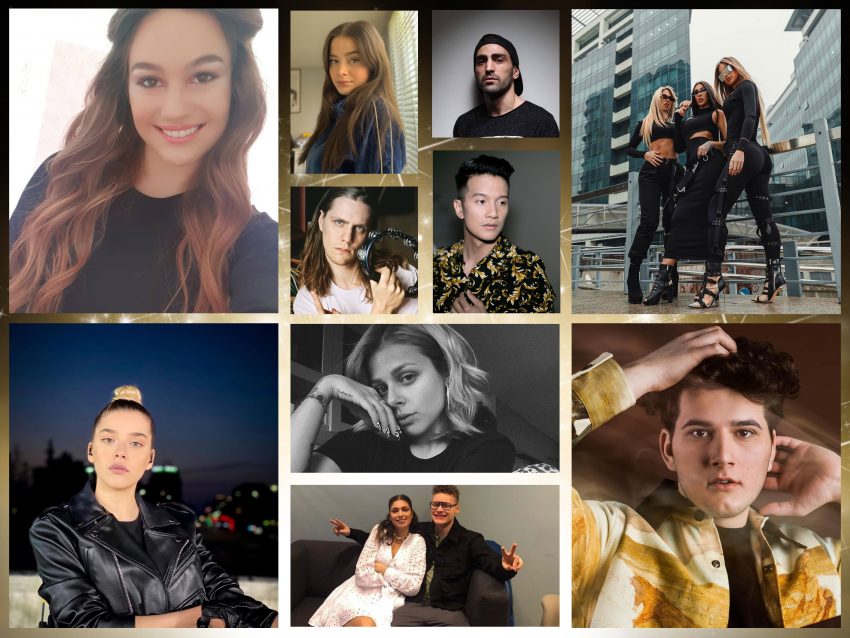 18 acts were reduced to 10, this evening. On Saturday, they will together with the qualifiers from the first semi-final join the six pre-qualified finalists in the final of Eurostream 2020.
It can't fully replace a Eurovision Song Contest, but Tuesday's first semi-final did bring us some of that excitement, Eurovision usually guarantees. The Eurostream project backed by more than 20 Eurovision media, EuroVisionary included, do provide a good alternative to not having any kind of Eurovision this year. Of course the winner, will only be an alternative one, and not really a Eurovision winner, but it is some kind of winner which can be discussed afterwards.
The voting is done in traditional Eurovision style with a 50/50 split between a professional jury and televoting (in this case, online voting).This ensures that it's not just the most enthusiastic fans voting. A good professional jury might take other things into consideration too. Their viewpoint is important too.
Semi-final 2 qualifiers
From Tuesday's first semi-final, we saw the following ten countries qualify for the final: Lithuania, Malta, Romania, Sweden, Russia, Israel, Norway, Australia, Azerbaijan and Belgium. On Saturday, they will compete in the final up against the big 5 + host country; Spain, France, Italy, Germany, United Kingdom and the Netherlands. And of course, the 10 qualifiers from tonight"s second semi-final.
Congratulations to the lucky 10 qualifiers from tonight. They are:
Georgia
Greece
Albania
Iceland
Denmark
Armenia
Switzerland
Serbia
Bulgaria
Austria
Several Eurovision participants as jury member
It hadn't been possible to find jury members in Israel, Latvia and Russia. The jury result for these countries was aggregated based on neighbouring countries. In the other countries however, we find many former Eurovision Song Contest participants as well as national finalists. They joined the likes of spokespersons, composers, radio hosts, commentators etc. We list here the former Eurovision participants and national finalists who are to be found as jury members for the Eurostream 2020 project.
Kejsi Tola (Albania 2009)
Cesar Sampson (Austria 2018)
Eldar Gasimov (Azerbaijan 2011)
Arytom Lukyanenko (Belarus 2017 as part of Naviband)
Georgi Simeonov (Bulgaria 2018 as part of Equinox)
Joanna Dragneva (Bulgaria 2018 as part of Equinox)
Zhana Bergendorff (Bulgaria 2018 as part of Equinox)
Bojan Jambrošić (Croatia 2020 national final participant)
Pamela Ramljak (Croatia – Bosnia & Herzegovina 2005 and Croatia 2010 as part of Feminnem)
Andreas Kapatais (Cyprus 2016 as part of Minus One)
Chris Ioannidis (Cyprus 2016 as part of Minus One)
Constantinos Amerikanos (Cyprus 2016 as part of Minus One)
Bryan Rice (Denmark national finalist is 201o and 2014)
Jonas Rasmussen (Denmark 2018)
Julie Berthelsen (Denmark 2019 national final participant)
Jüri Pootsmann (Estonia 2016)
Amaury Vassili (France 2011)
Madame Monsieur (France 2018)
Mariam Mamadashvili (Georgia 2016 Junior Eurovision winner)
Benedikt Brynleifsson (Iceland 2011 as part of Sjonni's Friends)
Helga Möller (Iceland 1986 as part of ICY)
Vincenzo Cantiello (Italy 2014 Junior Eurovision winner)
Jurgis Brūzga (Lithuania national final participant in 2018 and 2019)
Glen Vella (Malta 2011)
Geta Burlacu (Moldova 2008)
Petronela Donciu (Moldova 2020 national final participant)
Viorela Moraru (Moldova 2020 national final participant)
Alexandra Rotan (Norway 2019 as part of KEiiNO)
Liza Vassilieva (Norway 2020 national final participant)
Ricardo Soler (Portugal national final participant in 2008 and 2012)
Ovi Jacobsen (Romania 2010 and 2014)
Paula Seling (Romania 2010 and 2014)
Bojana Stamenov (Serbia 2015)
Zalagasper (Slovenia 2019)
Ainhoa Cantalapiedra (Spain national final participant in 2003 and 2010)
Sofia Rol (Ukraine 2016 Junior Eurovision participant)
Jake Shakeshaft (United Kingdom 2016)