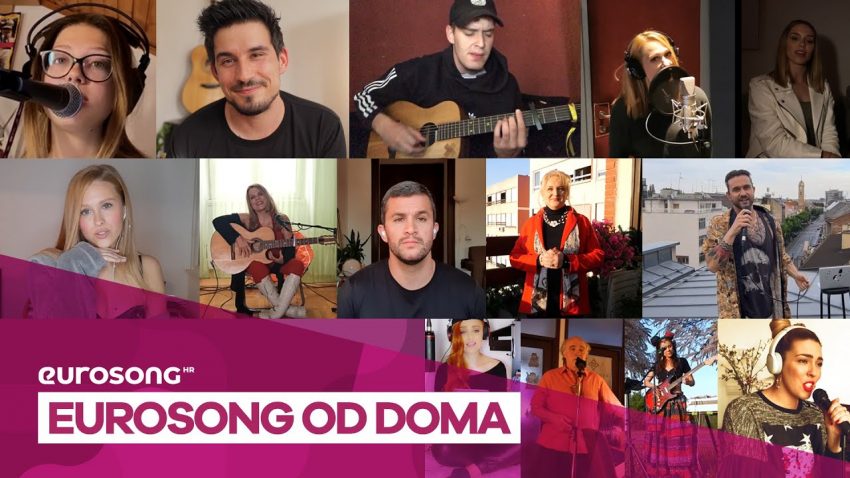 Tonight, Eurosong.hr will broadcast quite an interesting show. The cancelled 2020 Eurovision Song Contest has let to many alternative shows for us to enjoy. 'Eurosong od doma' will feature former Croatian participants as well as national finalists from the country.

Eurosong.hr responded to the unprecedented situation regarding the coronavirus pandemic by organising a new YouTube show called Eurosong od doma which translates to 'Eurovision from home'.
Eurosong od doma is Eurosong.hr's brand new YouTube show in which Croatian Eurovision performers and national contestands from Dora will perform acoustic versions of Eurovision songs from Croatia and other countries. A group of 14 musicians will perform over 30 songs, all from the comfort of their homes.
After all of the performances, fans will be able to vote for their favourites on the Eurosong.hr's website.
Well known performers and songs
The show will also feature Uršula Tolj, who is current Croatian Head of Delegation, Dalibor Petko, TV presenter and Eurovision fan, Duško Ćurlić, HRT's Eurovision commentator, and Andrej Babić, who wrote Eurovision entries for Bosnia and Herzegovina (2005), Croatia (2003), Portugal (2008 and 2012) and Slovenia (2007 and 2009).
The performers
Lidija Horvat Dunjko (Alongside Magazin – Nostalgija 1995)
Damir Kedžo (Divlji vjetre 2020)
Bojan Jambrošić
Antonija Šola
Mija Negovetić
Kraljevi Ulice (Romanca 2008)
Domenica
Elvis Lovrić
Jure Brkljača
Aklea Neon
Lea Mijatović
Luka Nižetić
Neda Parmać (As a member of Feminnem – Call Me 2005 and Lako Je Sve 2010)
Franka (Crazy 2018)
The acts
Here are some of the songs which the participants will perform in the show:
Ein Bisschen Frieden (Germany 1982)
Nostalgija (Croatia 1995)
Sveta Ljubav (Croatia 1996)
Where Are You Know (UK 1998)
Sasvim Sigurna (Croatia 2002)
Više Nisam Tvoja (Croatia 2003)
Proljeće (Dora 2005)
Molitva (Serbia 2007)
Romanca (Croatia 2008)
Lako Je Sve (Croatia 2010)
Satelite (Germany 2010)
Heroes (Sweden 2015)
Fuego (Cyprus 2018)
Crazy (Croatia 2018)
Divlji Vjetre (Croatia 2020)
Uno (Russia 2020)
The show will be premiered on EurosongHR's YouTube channel on May 9th at 8 PM CEST. You can watch the trailer/preview to the show in the embedded video below: