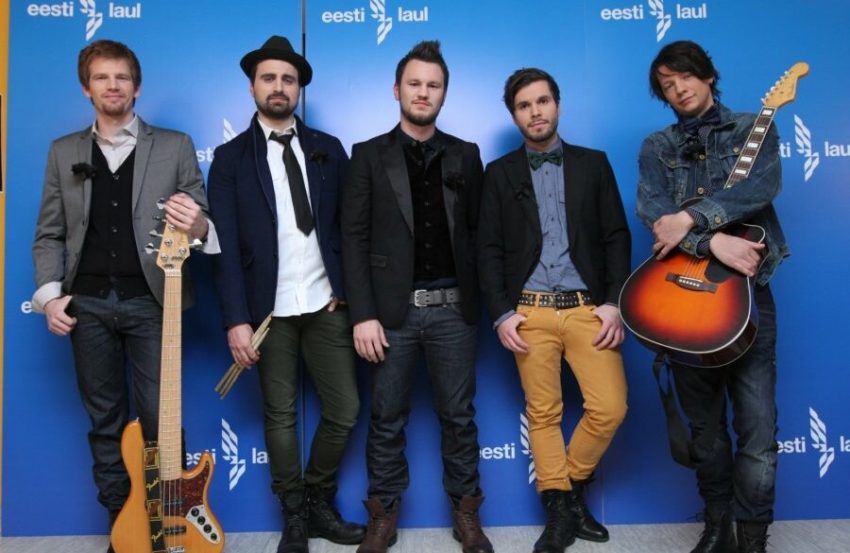 Two days after the first semi final of the Eesti Laul 2020, the second set of acts presented their songs, with six of them heading to the February 29 final.
From there Estonia will choose which act and song will represent them at the Eurovision Song Contest 2020 in May, held in the Ahoy Arena, Rotterdam, The Netherlands.
The Hosts And Show
The show opened with a performance by rock band Black Velvet. Before each act performed we were treated to little postcards of the acts, featuring beautiful locations in Estonia.
As in the first semi final, the show was hosted by Karl-Erik Taukar and Tõnis Niinemets.Tõnis was born in 1987 in Rakvere and supposedly performs grown up comedy and has released a video called 'The Kid'.
Karl-Erik Taukar was a finalist in the 2012 version of Estonian Idol. He  was born in 1989 in Viljandimaa and is also a member of a band which takes his name and they have toured and had several hit records in Estonia.
Both hosts did a wonderful performance of Richard Marx's Right Here Waiting before the results were announced. They were followed by opera singer Oliver Kuusik and a ballet performance. Two old chickens gave an Estonian rendition of Rock N Roll Kids (Ireland 1994) and then were joined by an ensemble to sing some other old faves like Runaway (Estonia 2002) and Never Let You Go (Sweden 2002).
The Songs
Viinerid – Kapa Kohi-LA
Very video friendly was the annual nonsense entry from Estonia, and to be starting the show no less. This is they type of thing that Eurovision gets a bad name for by the general public. Hopefully Estonia have learned their lessons from the past and this will be the last time a non fan will need to hear this.
Janet – Hingelind
Janet started her song seated in her red costume and black headmistress like cloak. This is sadly another bit of non-descript stuff that lasts three minutes and then it's gone. The rest better improve as we lost some better songs in the first semi final. Just simply nothing going for it. Three wasted backing singers walked and sang behind her.
Uku Suviste – What Love Is
Uku is a good performer but this song is a bit of a dud too. There is an attempt to get an anthemic like chorus going and with his stage presence this should make it to the final. He stood all in white on a raised stage with fire burning all around him.
Inger – Only Dream
This is a happy little song sort of like Malta's entry Tomorrow from 2013, only Malta didn't feature some acoustic guitar playing like this one. A breezy little whistling song for a summer Sunday afternoon. its lightweight feel should be enough to  see an Eesti Laul Final appearance.
Merilin Mälk – Miljon sammu
This has a really nice musical backing, but despite the nice song, Merilin is a million miles from appearing on a big Eurovision stage. It was a good attempt to try to hit the notes, but so many of them were missed. She looked good in her pink bubble gum coloured dress, but ears hurt unfortunately.
German & Violina – Heart Winder
The three female violinists dressed in red, yellow and pink got the song of to a good start, but look out here comes German. Perhaps there is something wrong with the sound in the studio as he too started off guessing the notes. The chorus of this one is very hooky and once it got going there is a certain appeal to this one. Could be a qualifier.
Jaagup Tuisk – Beautiful Lie
Totally influenced by last year's winner Arcade and Beautiful Mess from Bulgaria in 2017, so it has the right idea, but can a song like this be allowed to win in an even numbered year. Certainly the best so far tonight, but a little bit more original would have helped. Jaagup danced about with a female dancer. Written just for Eurovision.
Ziggy Wild – Lean on Me
The female vocalist in this four piece rock band certainly has a voice as good as Ann Wilson of Heart or Pat Benatar and the song has that feel about it too. The problem is that these were around in the eighties and if this was then, this would fit right in. May qualify for standing out tonight, but way to retro for more lasting appeal.
Uudo Sepp – I'm Sorry I Messed Up
Are there maybe too many men tonight, to be able to tell which one is the best. This has a nice quiet melody and is pretty well sung. In fact there are bits of Lewis Capaldi about this one, and Uudo sounds very sincere when he sings it. Perhaps one to watch.
Traffic – Üks kord veel
There he is sitting around in the circle with the rest of the band, no less than Stig Rästa playing guitar with his old group. This is an almost acoustic number yet could be a stadium filler too. This should be qualifying. Stig left this band in 2006 and represented Estonia in 2015 with Elina Born, coming 7th with Goodbye To Yesterday. Never one to miss a chance here he is trying again for about the millionth time.
SHIRA – Out in Space
Back to the floaty vocals again but SHIRA  is a lot more powerful than some that have come before. This is still a plodding old song though at points it does have parts that audiences can sing along. Worth another go probably.
Mariliis Jõgeva – Unistustes
Now if the winner hasn't been found yet, Mariliis is the last chance hotel. Holding a snow globe in her hand, Mariliis is sitting in the centre of the stage and singing in Estonian. This has a feel of an entry from the past, but has one of the better tunes of the night. Probably not the winner after all, but could see itself into the final too.
The Results
Four acts were sent through to the final, as a result of jury and televoting.
They were Uku Suviste, Inger, Jaagup Tuisk  and Traffic.
After a second round of televoting the following two acts, also qualified SHIRA and Uudo Sepp , meaning the twelve acts for the Eesti Laul 2020 were now ready.
Below is one of this week's qualifiers – Inger and Only Dream.