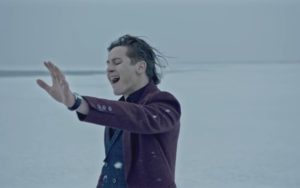 Tonight, Estonian Television gave us the first of two semi finals of the Eesti Laul 2020 contest, which will be used to find Estonia's Eurovision 2020 entry. Six out of twelve artists made their way to the finals, while six were their marching orders.
A second semi final will be held on Saturday 15 February, which will send another six songs to the final to be held on February 29 2020.
The Hosts and Show
The show was hosted by Karl-Erik Taukar and Tõnis Niinemets.Tõnis supposedly performs grown up comedy and has released a video called 'The Kid'.
Karl-Erik Taukar was a finalist in the 2012 version of Estonian Idol. He is also a member of a band which takes his name and they have toured and had several hit records in Estonia.
The show began with a bunch of dancers and rappers, and our hosts rapping along to a sample of Gotta Go Home by Boney M. A voice over announced all the acts and one by one they entered the stage to audience applause. No time was wasted in getting the show started with Rasmus on immediately, although a bit of talking throughout the show, slowed proceedings down at times.
Before the results were announced, in what's now starting to become a tradition, Ines was rolled out to sing her 2000 entry Once In A Lifetime. She murdered it tonight.
After the first four finalists were announced the band 5Miinust performed to distract the other eight act still waiting to hear their fate.
The Songs
Rasmus Rändvee – Young
Rasmus was very unlucky to miss out a few years ago with his entry This Love, and so is back giving the show another try. This isn't as good as his last attempt, but it's still an uptempo arena filling anthem and he seems confident enough in his purple suit. Performing first may be a disadvantage, but his name and the catchy tune should just be enough to get him to the final.
Kruuv – Leelo
This is as old-fashioned as it comes, yet some countries, so yes that includes you Estonia, keep insisting on show casing them in their National Finals. Even the clothes were as out dated, as if they were still wearing their old university uniforms. So there were some lay lows and pum pa para ums and that was it. Watch it win.
Stefan – By My Side
Third year in a row for our Stefan and this is a really good ballad, up there with his other entries which all made the Eesti Laul finals. Stefan was all in red as he walked gingerly around the stage, microphone in hand. For one brief second a female danced a circle round him then disappeared.We should get another chance to see her if he keeps her in the finals.
INGA – Right Time
INGA was also in last year's final, but since Estonia is a small country, no worries there. This is a mild slowish tempo dance number, although thankfully INGA spared us a selection of slitherers prancing around behind her. Instead INGA had two female backing singers to pump up the vocals, creating a pleasant if hardly ground breaking performance.
Anett Kulbin X Fredi – Write About Me
The acts name makes you think this should be a techno dance number, but instead it's about as dreary as it gets. Much emoting from Anett, albeit with a pleasing vocal, but this is a snooze jazz fest. Watch it equally sail to the final, yet who can listen to this for any length of time.
Revals – Kirjutan romaani
Suddenly we are of to Nashville with the instruments, but when the vocal comes in the man is a surprisingly gravel like sounding singer with a Balkan or Italian feel. After that shock though things settle down to a run of the mill ballad, which really won't be going too far.
Renate – Videomäng
This is quite a pleasing tune, which could have been even better had Renate chosen to sing in tune. A backing group all in black supported her, but maybe they should have sung a bit louder. Having said that this is worth a trip to the final, which will give her a chance to tighten things up.
Laura Põldvere – Break Me
A black leotard and never ending boots was Laura's choice of stage wear, making the performance very visual. The vocals were probably the best of the night. The problem is the song is not a stand out, really unremarkable which is a shame as well love Laura. Sadly this is unlikely to be the one to take her to the Eurovision finals.
Little Mess – Without a Reason
The biggest difference between the Mess and the Mix, are Little Mess are down a member. Performing in a sea of lampposts this is a good enough entry, the three ladies all left in white. Maybe not as powerful as the O'G3NE gals but nothing wrong with this entry.
Egert Milder – Georgia (On My Mind)
A clever little song title, its surprising no-one has made a record with that title before. This is a very George Ezra influenced type song, but it's very good and must surely be making the Eesti Laul finals. A good bit of piano playing helped the performance and the audience loved it.
Jennifer Cohen – Ping Pong
When you think of Ping Pong , who doesn't think of that scene in Priscilla Queen of the Desert, but no this is more a tribute to the sporting version. Is there really a point to this song. Lots of different camera angles highlighted Jennifer in a number of poses, in her blue dress. However this can ping pong back and forth all it likes, it's a non starter.
Synne Valtri & Väliharf – Majakad
Synne has been looking at old Finnish songs from the seventies that YLE didn't deem good enough, and has dug up this treasure (supposedly). Katri Helena or Monica Aspelund, past Finnish queens would kill to get a hold of this song. If retro is your thing, check this out.
The Results
Practically every person in Estonia who is not performing in Eesti Laul 2020 was introduced as a judge. With the help of a public vote they selected five songs to go to the final. It was then left to the public alone to pick the sixth song to go to the Eseti Laul final on February 29.
The first four acts through to the final were Anett Kulbin X Fredi, Rasmus Rändvee, Egert Milder and Synne Valtri & Väliharf.
After a second public vote, the fifth and sixth acts through to the final were Stefan and Laura.
Below is one of the finalists Egert Milder and his song Georgia (On My Mind)