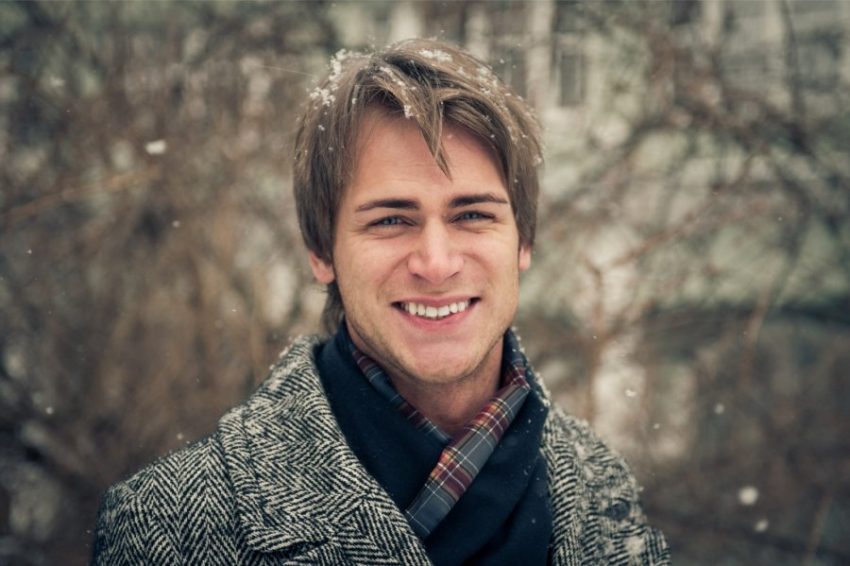 The second semi final of Estonia's Eesti Laul took place tonight, only two days after the first six acts were sent through to the Grand Final, which will be held on February 16 2019. A professional jury and the Estonian public sent another six through tonight. 
Tonight's semi final has come rather quickly after the first show, probably as it is coming, not from Tallinn, but from Tartu Sports Hall, so supposedly since they were there, better get on with it.
The Hosts
Back for a second helping were Ott Sepp and Piret Krum. Ott won the Oskar Luts humour prize in 2011, while you may have seen Piret in 2017's The End of The Chain, where she played Jõgeva Rabbit. Two older codgers gave us a fun run through of Estonia's only Eurovision winner, Everybody.
The Songs
Sünne Valtri – I'll Do It My Way
This was a good one to open the show tonight. A bit of mid paced dance music from the eighties which could easily have featured in one of that decades movie soundtracks. Good enough singing as well, a worthy qualifier for the final, from the Esther Hart look a like and sound a like. The cream coloured dress didn't do her any favours, but other than that all is well.
Iseloomad – Kaks miinust
A rockier sound to this one still very much stuck in the eighties. There wasn't a lot of laughs from the four piece male band, consisting of two guitarists, a drummer and vocalist. A bit of a racket to be honest.
Lumevärv feat. INGA – Milline päev
This is one of the favourites from Estonia this year. Another dance song but with more of a lyric. The sports hall aren't getting the chance to fall asleep tonight. Red head INGA wore a belt with the tag INGA on it, so that you wouldn't forget her name. Another likely heading to the final due to the whole collaboration making an effort to sell the song.
Sissi – Strong
A mid paced song with a good beat in the verses, which gets removed for the beginning of the chorus. Another one of these empowerment songs which are creeping their way into Eurovision these days. Sissi, daughter of Eurovision winner Dave Benton, with a hair do to remember, interacted with the audience for a while, in her blue pant suit. Three backing singers all in black helped out in the background to make sure Sissi did indeed stay strong. Then from out of nowhere two more females appeared in white pantsuits, where the six of them bopped about on stage. Enjoyable, more eyes towards the final.
Cätlin Mägi & Jaan Pehk – Parmumäng
No Eesti Laul is complete without something bizarre creeping in every year, and this is the one for 2019. It has to be an Estonian thing as, supposedly, no way, this would translate anywhere else. Trying to be too clever and weird for its own good, it ends up just being nonsense. Don't these people have anything better to do. Three backing singers looked as if their talents could have been used better elsewhere. Oh someone will love it.
Kadiah – Believe
This is a sweet little song sung with fragility from Kadiah. It's all about how she's always dreamt of being in Eesti Laul since she was a little child maybe. The gentle simplicity gives the song a charming appeal. The cellos add a touch of class to the performance. Halfway through the show, it looks as if, there's now going to be too many to qualify to the final.
Kaia Tamm – Wo sind die Katzen?
More old school European dance music, with just a hint of the bizarre to make it stand out. It's the modern version of Sabrina's Boys Boys Boys, only the boys have been replaced by Cats. If this was U.K it would be getting derided, but since it's Estonia it's probably a future classic. The staging, apart from the large cats, borrowed a lot from Valentina Monetta's Facebook song. Its biggest problem was that it lasted two minutes too long.
Kerli Kivilaan – Cold Love
This is a three minute song without any frills and novelty. Very well sung and would have qualified from the first semi final, so we'll need to see how it does against this much stronger collection of songs. Kerli was accompanied by two guitarists and a drummer. She performed the song, sitting on a stool, and seemed to avoid back ache despite having nothing to rest against. You go girl.
Grete Paia – Kui isegi kaotan
Grete never disappoints and she's back this year with another Baltic anthem. This build nicely from the verses into a powerful chorus. A strange hand was running through Grete's hair at the beginning of the song. Hopefully it related to the songs lyrics and wasn't a stage invader.  Grete looks as if she should be a superstar. Will this be the year it happens at last.
Lacy Jay – Halleluja
The ladies could all cancel each other tonight.  Lacy starts out sitting on the stage. This starts with a guitar and misleadingly makes you think it's going to be a boring acoustic number, but it bursts to life when Lacy stands up and sings. Lacy is from Dallas, Texas so she doesn't want to use her return flight home yet. Well done to her for adding some Estonian to the song. She learned it from when she was a student in Tallinn, seven years ago.
Around the Sun – Follow Me Back
A young four piece band, three male musicians with their female lead singer. Not overly remarkable, but a decent enough effort, which maybe just needs a little polish. A good try and the audience seemed to be enjoying it. Judging by the applause we'll be seeing this again on February 16.
Uku Suviste – Pretty Little Liar
This is another one that's being fancied to win. Being the only solo male singer tonight makes it stand out. However it is a powerful song anyway and Uku is another who's been trying to get to Eurovision before.  This is also the only performance tonight to feature an uneccessary dancer. All told a much stronger semi final tonight, than semi one.
The Results
After the jury and first round of the public votes, Sissi, Kadiah, Kerli Kivilaan and Uku Suviste went straight to the final.
A second round of public votes sent Lumevärv feat. INGA and Sünne Valtri to the final.
Estonia In The Eurovision Song Contest
Estonia were one of seven countries who made their first appearance in 1994. On that occasion they were represented by Silvi Vrait and the song Nagu Merelaine. Silvi finished in 24th place with just 2 points. Getter Jaani also finished 24th in 2009 with Rockefeller Street, but with 44 points.
Estonia's best streak came in the years 2000-2002, when they came 4th, 1st and 3rd, with Ines, Dave Benton and Tanel Padar, with the much forgotten 2XL , and then finally Sahlene.
Estonia hit a dry spell between 2004 and 2008 where they failed to qualify, before Urban Symphony took Rändajad to 6th place in 2009.