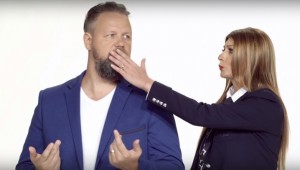 Estonia entered the Eurovision circus tonight with the first-semi final of the Eesti Laul 2016 to find who will follow Elina Born & Stig Rasta as Estonia's representative for the Eurovision Song Contest 2016, to be held in Stockholm, Sweden, on 10th, 12th and 14th May.
Estonia picks its entrant through the popular Eesti Laul competition and tonight the first ten acts competed for five positions in the final to be held on March 5th.
The Songs
The Jingles – Love A Little Bit
This was a nice soulful type of a song – very mellow and breezy from the four piece band. It did get a little repetitive towards the end but it was very pleasant. If Estonia wants something a little laid back, this is the song.
Würffel – I'm Facing North
Very electronic eighties and another song worth a second listen. This seems to be a three piece band with two backing vocalists, which did Yazoo or Erasure proud. Mid paced and pretty well performed and sung.
Mick Pedaja – Seis 
Slow and very different. The music was at its minimalistic and sounded like scratches on an old vinyl record. The mood stayed the same all the way through, almost like a trance. The singer, or wailer stayed blacked out for the whole performance.
Indrek Ventmann – Hispaania tüdruk
The lyrics were very similar, heck they were the same for a while as Ott Lepland's Kuula, but was more upbeat. Six people were on stage, with the female violinist taking a break from her instrument to sing along for a few lines. Summery and breezy.
Cartoon feat. Kristel Aaslaid – Immortality
Wow and you can't get more unique than a cartoon. This was very well conceived with a cartoon character on stage and a drawing in the back ground. The song wasn't too bad either.
Kéa – Lonely Boy
Another reasonable song but now they're all starting to sound a bit like each other. The chorus was repeated over and over again towards the end, but again nothing to fault really in a good pop song.
Kati Laev & Noorkuu – Kaugel sinust 
This was a more somber piece, very slow with the piano plodding along in the background. There were hints of Urban Symphony in places. At times it became very operatic with the five male singers from Noorkuu offering a very strong backing chorus.
Zebra Island – How Many Times
A throwback to the seventies now with all glitter and sparkly costumes. Dressed in sparkly green , there were two backing singers and although there was a modern electronic feel, this was definitely back to the days before Abba.
Laura – Supersonic 
More banging drums and a stage show Gaga would kill for. All very gold and arty with five backing singers. Very modern and another contender  to go to Stockholm.
Windy Beach – Salty Wounds
The last song was jiggly dance number which appeared to be a solo number despite having a group name. Estonia will have a difficult choice too toight, decideing who to send to the final.
The Show
The show was hosted tonight by Estonian rapper Henry Kõrvits, also known as Pumpkin Henry, and his wife Maris Kõrvits. The venue was the Estonia Theatre in the capital Tallin. Well, that's not strictly true as the performances were recorded on February 5th, but this was the venue where the results were announced.
The show opened with a montage of Estonia's best past Eurovision moments and there were several good highlights in it. All the acts were introduced by video and were interviewed after their performance.
The audience were treated to an real opera performance during the interval.
The Results
The results were decided half by jury, and half by the public through tele-voting. The top five acts will proceed to the final.
The jury and public  picks are marked with an 'X'.
| | | | |
| --- | --- | --- | --- |
| |  Jury | Public | Total |
|  The Jingles | | | |
|  Würffel  |  X | | |
|  Mick Pedaja |  X |  X |  FINAL |
|  Indrek Ventmann | | | |
|  Cartoon feat. Kristel Aaslaid |  X |  X |  FINAL |
|  Kéa  |  X |  X |  FINAL |
|  Kati Laev & Noorkuu | |  X |  FINAL |
|  Zebra Island | | | |
|  Laura |  X |  X |  FINAL |
|  Windy Beach | | | |
Estonia In The Eurovision Song Contest
Estonia have appeared in the Eurovision Song Contest twenty one times debuting in 1994 with the late Silvi Vrait and Nagu Merelaine finishing in 24th place and therefore due to low score rules missed out the following year.
In 1996 Maarja-Liis Ilus & Ivo Linna took the country to 5th place with Kaelakee hääl, so Maarja dumped Ivo the following year but ended up 8th with Keelatud maa.
A run of pretty good results cumulated in 2001 when Estonia received their first and to date only win with Tanel Padar and Dave Benton featuring 2XL with Everybody. In the home country Sahlene placed third with Runaway in 2002.
During 2004-2008 Estonia failed to qualify to the finals, but made a strong comeback in 2009 finishing 6th with Urban Symphony and Rändajad. Ott Lepland equaled that place two years later with Kuula.
Estonia were one of the favourites to win last year with Elina Born & Stig Rasta and Goodbye To Yesterday but ended up 7th.
Below you can watch highlights from Estonia's past entries with exclusive content you may not have seen before.