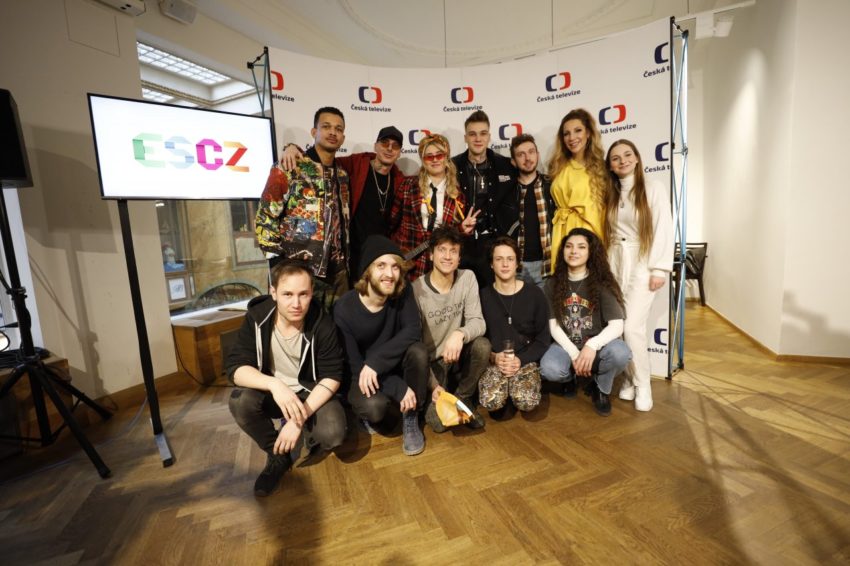 Today, the songs in the run to represent the Czech Republic at this year's Eurovision Song Contest were released. 7 entries are fighting for the honour. Voting is done online – and an international jury will help out too.

Last week the Czech broadcaster Česká Televize held a press conference where they presented their seven hopefuls for Rotterdam. But only one of them can get the precious ticket to represent this central European country in May in the Netherlands.
All songs are available in the official Eurovision APP – and on YouTube.
Online and jury voting
Now when all the seven songs are out, the official voting is open. It works exactly the same way as it did in the past two years. Everyone can download the official Eurovision app and vote for one of the seven songs. While the votes of people from the Czech Republic counts for 50 % of the overall result, the votes from abroad will be combined to form one international juror. The other international jurors will be some of the previous Eurovision representatives from all over Europe. The international jury is the second half of the result. Unlike most of the national finals and Eurovision Song Contest, Czech Republic don't use the percentage of public votes received when distributing the votes. They use points according to the position in the TOP 7 of jury voting or Czech online voting. The points distributed are 12, 10, 8, 6, 4, 3 and 2. The song with the highest score in total is then declared as the winner. In case of a tie, the position in online voting decides the winner.
Participants and songs
Link to the songs on YouTube are added to the songtitles (They will open in a new tab).
If you followed last year's edition of the Czech national final, then you have to remember Barbora Mochowa. She amazed the international jury with her dream pop song True Colors, but did not appeal to the Czech audience and ended up on a tied second place. If the ties were broken according to the new rules, she would have been awarded a fourth position. This year she brings another song in this musical style, so we will see if she will be more lucky on her second attempt with the song White & Black Holes.
Pam Rabbit – Get Up
As well as Barbora Mochowa, also Pam Rabbit was one of last year's contestants. But besides that and her third place overall with a song Easy to Believe, she has her Eurovision experience from Lisbon in 2018 where she took part as a backing vocalist for Mikolas Josef. This year Pam comes back with an indie-pop song called Get Up.
A newbie in the Czech national selection and also the Czech music scene is Karelll. He is not only a singer but also a songwriter and those triple L in his stage name are not only coincidence and mistake in spelling. Karelll is actually a third Karel in his family, so that's why he decided to type it like that. He has a few songs on his YouTube channel already and his Eurovision song called At Least We've Tried is a usual organic pop.
Olga Lounová is the most experienced artists among the Czech set of finalists. Every year she has around 180 performances which summed up make at this time already over 1500 concerts and theatre appearances in total. She is not only a singer, but also an actress and a musical theatre singer-actress. And still, that's not all, because Olga is also a rally car driver. Let's say that Olga Lounová is a woman of many talents, so trying her shot at Eurovision may be a good idea. Especially after her work on the upcoming album with the US team. Dark Water is an emo-pop ballad with piano and orchestra.
The only duo in the national final is Elis Mraz and Čis T. Elis is a Czech singer who got famous after competing in The Voice of Czech and Slovakia where she made it to the live shows. She always liked to use her ukulele, which she may put also into her Eurovision song Wanna Be Like, which is reggaeton. But she approached Čis T., who is a Slovak rapper, to join her on this song. And see the result in the official video. Do you think it is one of the songs we will hear at EuroClub in Rotterdam no matter the final result in ESCZ 2020?
Benny Cristo – Kemama
Ben Cristovao decided to use a more international friendly form of his name – Benny Cristo – for the 2020 edition of the Czech national final. Along with Olga, Benny is also a well-known name among the final seven. He started his career in Czech and Slovak Idol in 2009 so this year it's already over 10 years he is at the Czech and Slovak music scene. And he has on his account some hits with millions of views on YouTube. Benny Cristo comes to the Czech national final ESCZ with a song called Kemama which is in the genre of afro-pop.
If Benny and Olga are well known back home, We All Poop are on the other side of this scale. This 4-piece male group was formed shortly before they submitted a song to the Czech online selection. They say that their song is "a coincidence punk-pop", so we all may be afraid of All The Blood, as their song is called. We already saw some new acts to win the national finals over well-experienced artists so everything is possible.
Who is your favourite to win the Czech national final Eurovision Song CZ? Last year, the Czech Republic was represented by a group Lake Malawi, who ended in 11th place in the grand final.