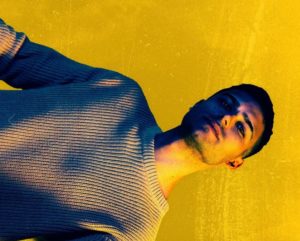 Swedish pop singer Eric Saade, who sang about becoming popular at 2011 Eurovision Song Contest, released yesterday a brand new single "Skit För Varandra". It is a modern pop song about difficult relationships and the time after.
Eric Saade made a breakthrough back in 2010 when he came 3rd in Melodifestivalen with the song Manboy. The year after he won the Swedish selection. At the Eurovision grand final in Düsseldorf, he reached a respectful 3rd place with the powerful pop track Popular. Since Eurovision he released five albums, and a bunch of singles.
Eric's new song Skit För Varandra, which translates to Bad For Each Other in English, is a personal song about difficult relationships and the time after breakup. In a press release, Eric explains that he, in retrospect, has realised, that in the time after his previous breakup, he continued to hold on to some other relationships, which weren't good for him. As he pointed out himself, it can be difficult to follow the logic path when desire is too strong. However, based on his previous experiences, Eric has finally recognized that he should not be searching for something perfect, because perfect doesn't exist.
Furthermore, Eric has come to a point in his life where he strictly is focusing on music. In an interview to Swedish newspaper Expressen, he pointed out that he has become wiser and more experienced, and that the music is more important than his image and stage shows.
As mentioned above, Eric's new song is in Swedish as he believes that the lyrics written in Swedish are more personal. He co-wrote and produced Skit För Varandra together with Jimmy Jansson and Fredrik Sonefors. Eric is also planing to release his first album in Swedish in the end of Autumn this year.
Below you can watch the lyric video for Eric's latest release: