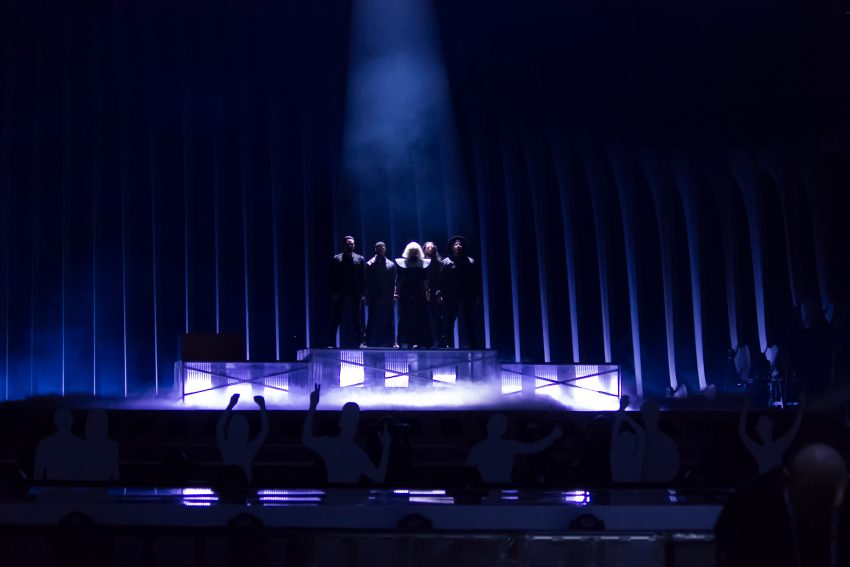 At their first rehearsal Equinox reveals a dark, futuristic and mysterious performance. It leaves us all wondering if Bulgaria might be on to another great result this year. 
Gallery
Second rehearsal
Opinions expressed during our second rehearsal coverage are personal from the mentioned writers.
Pedro, Portugal (in the press center) – This performance keeps on getting better and better. It catches the viewer's attention as it is dark and mysterious and once you're looking you can't stop. They've added a few details in regards to images with a few special effects and it did make it better. They serve vocals, soul and cohesiveness. Three very appreciated elements in a performance.
Josef, Czech Republic (in the arena) – Bulgaria knows very well how to bring a high quality dark song. Bones is powerful, emotional and a strong song which should definitely qualify. After the performance you just stay with your mouth wide open. It's a well produced entry that should be also appreciated by both the jury and televoting. I just hope that Zhana's white wig won't be blown away by the windmachine.
Complete the sentence
First rehearsal
Bulgaria has been a favorite even before the song or artist were selected. When Equinox was chosen Bulgaria was still in the group of favorites this year and now we have seen their rehearsal they still are.
The first Bulgarian rehearsal reveals that Equinox has a very dark and futuristic performance with light flashing constantly in the beginning and group members disappearing in the dark and appearing again. At the same time, it sounds and looks like a message from the future about how you can and will lose the chains holding you down. At the end of the song the members of Equinox are all shown very short and quickly and there is some sort of light from above – like the light of God.
During the song the five members of Equinox are standing on a big glass podium. Later they are walking around and shifting places. They are very good vocally and sing in perfect harmony.
How Equinox was selected
In the past, Bulgaria has used both national finals as well as internal selections to find their Eurovision repesentative. This year, they used an internal selection, but a more open one of its kind. An open call for submissions resulted in 202 possibilities. They were cut down to 13 projects, which were announced by song titles.
On the 12th of March, broadcaster BNT presented Equinox and the song Bones as the Bulgarian participants for the 2018 Eurovision Song Contest.
Bulgaria at the Eurovision Song Contest
12 Eurovision appearances, but only three times in the final. Statistic clearly tell that things hasn't been easy for Bulgaria when it comes to the Eurovision Song Contest. When they do qualify however, they are guaranteed a success. All three times, Bulgaria made it to the final, they ended in top 5.
First Bulgarian success came in 2007, in the country's third participating year. Elitsa & Stoyan's Water charmed Europe into awarding them a 5th place. They were followed by six years in a row where the country failed to reach the final.
Due to financial difficulties, Bulgaria did not take part in 2014 and 2015. They however came back stronger after that. Poli Genova finished fourth in 2016, and the year after Kristian Kostov secured a second place with his Beautiful Mess.