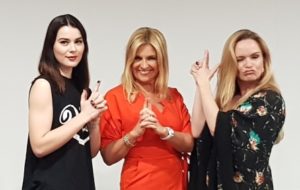 Emmelie De Forest and Selma Björnsdóttir were the star guests of OGAE UK's Eurobash 2017. Live performances included an English version of Amar Pelos Dois and their group interview proved quite revealing – in other words, it was a night of pure Eurovision delight!
For a second year in a row, Eurobash took place at Manchester's Park Inn Hotel. The annual event gives the chance for fans to socialize and celebrate all things Eurovision. On the menu there are quizzes and fun contests such as Eurostars, where contestants perform as their favourite Eurovision acts for a chance to win the night's trophy. A great attraction for those attending however is the chance to meet Eurovision participants, too. With 2013 Eurovision winner Emmelie de Forest and 1999 runner-up Selma being star guests, this year's line up was truly exciting!
Emmelie's link to UK Eurovision fans is very fresh indeed, as the Danish artist co-wrote the 2017 British entry, Never Give Up On You (sung by Lucie Jones). During the guest stars group interview, Emmelie confirmed that the creation of songs for this year's UK national final included a songwriting bootcamp, where each creator could work within more than one different groups of songwriters.  When asked, the singer revealed that she could see herself taking part in Eurovision again, though as a songwriter and not as a singer, feeling that there was no point in trying to top her 2013 winning performance with Only Teardrops.
A third star guest was vocal coach Yvie Burnett. With an operatic background, Burnett has strong Eurovision connections that include collaborating with Andrew Lloyd Webber in his search for an entrant singer in 2009 as well as coaching 2016 UK entrants Joe and Jake. Of her experience as a UK jury member for Eurovision 2015, the artist described how strictly were jury members prevented from talking to each other before and during the contest. She confessed that, as a result of knowing that everyone's votes would be published after the announcement of the winner, she was worried that hers might be at odds with everyone else's. It turned out that her worry was somewhat justified – when other juros went for eventual winner, Sweden's Måns Zelmerlöw, Burnett's favourite was Israel's Nadav Guedj, who eventually finished ninth in that year's grand final. With her charismatic personality and great sense of humour, many of those present in the audience thought that Yvie Burnett ought to be used in front of as well as behind the cameras in regard to the UK national finals by the BBC.
Selma, too, had a lot of backstage information to disclose. The singer described the moment of landing in Jerusalem for the 1999 contest and finding out from the journalists who immediately surrounded her that she was the favourite to win. Of her 1999 experience, Selma also described how the constant interviews and performances in unforgiving high temperatures took their toll on her in the end – she apparently fell asleep on the airport floor right after the contest and while waiting to board the flight back home. It sounded as if Selma recuperated in good time though, as she described how, during a transit stop to Copenhagen, she and her team had a wonderful closure of their Eurovision experience spending time in Tivoli Gardens before returning to Iceland.
Recounting her experience as a director and choreographer for Iceland's 2006 Eurovision entrant, Silvia Night, Selma wittily described how Silvia's eccentric antics in Athens had the audience present during rehearsals misunderstand her and, annoyed, start booing – apparently, an exasperated Svante Stockselius, the then executive supervisor for the event, asked Selma to calm Silvia down or else!
Multi-talented Selma recently acted in Undir Trénu (Under The Tree), a comedy drama that was screened at this year's Venice Biennale and the Toronto International Film Festival. Soon to be released, the film's trailer was shown during the interview and indeed looked witty in a Nordic, dark kind of way.
In the following photo gallery, we try to bring you highlights and something of the ambience of Eurobash 2017.
In the video below, we have also singled out for you Selma's rendition of current Eurovision winner Amar Pelos Dois. We thought that her English version really works – what is your view?
More videos of Emmelie de Forest and Selma from Eurobash 2017 will be coming soon! Expect performances of Eurovision favourites such as Only Teardrops, Rainmaker, Euphoria, Wild Dances, Non Ho L'Eta and If I Had Your Love. For notifications about these and similar Eurovision related videos, you can subscribe to our YouTube channel!