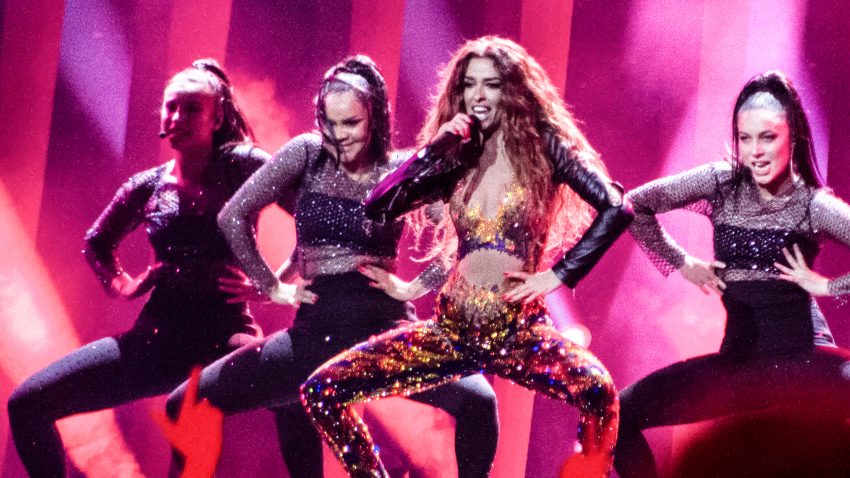 It is not only fans that get nostalgic about Eurovision. Last Sunday marked two years since the 63rd Eurovision Song Contest took place in Lisbon and 2018 Cypriot entrant Eleni Foureira marked the occasion by sharing on Twitter a video with previously unseen backstage footage from her time in Lisbon. 
Eleni Foureira had caused a sensation at Eurovision 2018. The Cypriot entry Fuego had started from a mediocre place in the betting odds. Yet, once the Cypriot entrant set foot in Lisbon, things changed rapidly.
With Eleni's stage performances and bubbly personality Cyprus was soon tipped as the entry that might challenge 2018's hot favourite, Israel's Netta and her song Toy. However, in the end, though achieving its best ranking so far, Cyprus finished as runner up to Israel.
With the post on her Twitter account shown further below, Eleni shared with her followers moments from those intense days of preparations leading up to the Eurovision Grand Final.
In the post's video, there feature personalities like French fashion designer Jean Paul Gaultier as well as Eleni's encounters with her Eurovision fans and many candid moments with her team.
"2 years after my performance @Eurovision Song Contest stage and I'm really excited to share with you all the great moments from the backstage, where all the magic happened! I hope that you will enjoy every part of this! Love you all" ❤️
https://t.co/CARWLmGcEr

— Eleni Foureira (@foureira_eleni) May 12, 2020
.Eleni had already had a very successful career in Greece and Cyprus. However, post Eurovision 2018, she has also had a considerable international following and collaborations with global stars such as American rapper Snoop Dogg.
Her popularity with Eurovision fans meant that, one year after Lisbon 2018, she was invited back to Eurovision. As an interval act in Tel Aviv 2019, she performed her take on fellow iconic runner-up Dancing Lasha Tumbai (Ukraine 2007).
In the following video, you can revisit Eleni Foureira's sensational stage performance of Fuego at Lisbon 2018.