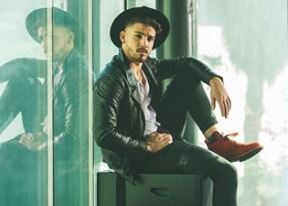 Cypriot broadcaster CyBC had selected German-American singer Sandro to represent it in what would have been Eurovision 2020. Before the event was cancelled, his song was not doing so well in the betting odds. Was it overlooked? Here at EuroVisionary, we are sharing our views on 'Cyprus 2020'!
After two successful runs with well known female artists, Eleni Foureira with Fuego (2nd place in 2018) and Tamta with Replay (13th place in 2019), it was widely rumoured that Cyprus would turn to a male act for Rotterdam 2020. In the end, the Cyprus Broadcasting Corporation internally selected Sandro. Born in Germany to a Greek mother and an American father, 23 year old Sandro had been previously known, amongst other things, for his participation in the eighth edition of talent show The Voice of Germany in 2018.
So what do we think about Sandro's Running? The views of some of us here at EuroVisionary are as follows:
Michael – 'I was lucky enough to be standing beside Sandro when his song was premeriered in Stockholm. At first hearing I thought gee that' s a bit disappointing. Then I saw him perform it live and he was amazing. The song came to life. Now left with just the audio recording and video I like the dance beat, but feel it would have gotten lost amongst the other entries.'
Josef – 'Sandro is a good looking guy with an international background, which is something positive to start with. Everyone expected something amazing and maybe this is the biggest problem. Too high expectations. Running is a good average dance pop track. Not bad, but not great either. I still think that Running (Hungary 2014) is the better track of this title.'
Güneç  – 'Sandro came with big hopes and we waited for his songs eagerly. When I first heard Running I said "is that it?" It was way below my expectations. But, every time I listened to it, it grew on me. Very modern sound with strong beats.'
Theo – 'Ok, I had to go back, listen to the song and refresh my memory in order to comment on Cyprus – arguably, not a good sign. Having done so, I feel I had not done the song justice – it is actually very pleasant. Still feels like a scaling down for Cyprus compared to the two previous years and the divas that were Eleni Foureira (2018) and Tamta (2019) however.'
William – 'A dark horse in the competition. There is always one song that you think will fall by the way side, only to become a surprise top 15 finisher and I think this would have been this year's. Not overly positive reviews yet I think Sandro would have provided a great stage show for this, elevating it out of the Semi-Final.'
Stay tuned – tomorrow we will be discussing another entry intended for Eurovision 2020!
Below you can watch the video to Sandro's Running.
This reflection article is based on the author's own personal experience. Views expressed belongs to him or her, and are to be seen as unrelated to EuroVisionary.com.