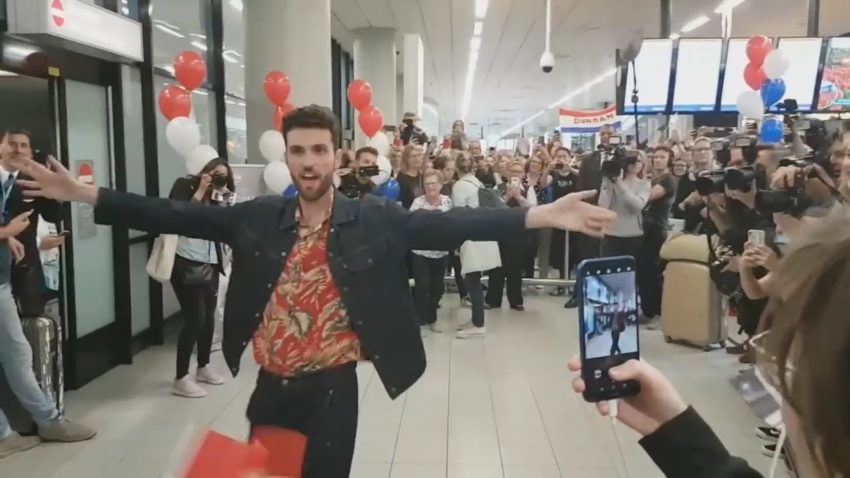 Hundreds of fans of all ages, press, family and friends had gathered in Schipol Airport to welcome home their Eurovision hero. In the evening, a TV studio full of former Dutch participants were waiting for him – and finally, he was awarded a double platinum record for "Arcade".
There was a time where the Dutch were quite used to winning the Eurovision Song Contest. It is however so many years ago, that many fans will have to ask their grand parents about that time. The Dutch won in 1957, 1959, 1969, 1975 – and now again in 2019.
When Duncan Laurence Saturday evening took over the trophy from Netta, it was 44 years ago the country won last time – yet it was their fifth victory. The now five victories brings the Netherlands up to a tied third position for most Eurovision wins. They are two behind Ireland's seven, and just one away from matching Sweden's six.
Duncan Laurence returned home from Tel Aviv yesterday afternoon. In the airport he was greeted as a hero. Hundreds of fans were ready to welcome him. Duncan's grandmother was also waiting for him. She was probably the only one in this crowd who would be able to remember the time where it wasn't that uncommon for the Dutch to win the contest they joined in it's beginning in 1956.
Double Platinum
In the evening, Duncan had several TV appearances. In one of them, Pauw, another special crowd was waiting for him. Former Dutch participants had been invited to talk about their Eurovision experience and to give Duncan some advise. These were Lenny Kuhr (1969), Getty Kaspers (1975), Gerard Joling (1988), Ruth Jacott (1993), Ilse de Lange (2014) as well as Dutch commentators Cornald Maas and Jan Smit.
After having performed an acoustic version of his winning entry, Duncan was surprised with a double platinum plate. He received that for 160.000 sold versions of Arcade.
In the studio, Duncan also said that he hoped for a young talent to represent the Netherlands at the 2020 Eurovision Song Contest. Whether it will indeed be a young talent or an experienced well known name, the chosen one will have less pressure on their shoulders. He further emphasized his focus on young talent by suggesting AVROTROS to look for newcomers to host the contest.
As host country, the Netherlands will be automatically qualified for the final along with the BIg 5 countries.