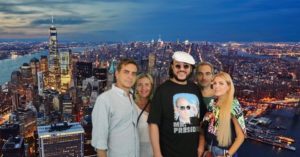 The international "Dream team", which consists of Russian superstar Philipp Kirkorov, Greek composer Dimitris Kontopoulos, legendary choreographer Fokas Evangelinos, as well as professionals from Cyprus, United Kingdom, Sweden, Russia and Greece has begun preparations for Eurovision 2019.
Philipp Kirkorov who represented Russia in the 1995 Eurovision Song Contest and has been behind a lot of successful entries since then, posted a photo in his Instagram account revealing that the "Dream Team" will try their fortune in Tel Aviv, after a 10th place this year for Moldova. Philipp wrote in his post :
"DREAM TEAM" starts its May adventure from the highest point of the United States of America…! #DreamTeam
Along with Dimitris and Philipp is Ilias Kokotos, who is always an integral part of the team, as he is the creative director of their projects.
A glorious Eurovision history for "Dream team"
The "Dream team" started their collaboration in 2007 with Belarus and Work Your Magic. In 2008 they worked again under the Ukrainian flag, with Shady Lady. In 2013 they represented Azerbaijan with Hold Me. The next year they represented Russia with Shine, while in 2016 they won with a big margin in the televote for Russia and You're the Only One. This year they signed the Moldovan entry with DoReDos and My Lucky Day.
All their entries they worked together, were ranked in the top 10.
Do you think they will succeed with their first victory? Will it be for Russia, or for another country?