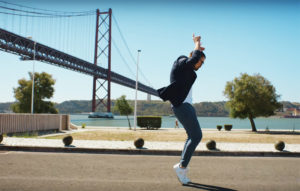 Dima Bilan released his new music video for his single Derzhi. Besides offering his fans new music, the Russian singer is also giving away a sneak peek of what one can expect from Lisbon. The video was shot in the city that will host the Eurovision Song Contest 2018. Dima will yet release a second video also shot in Portugal soon.
While Russia's broadcaster is still debating if Yulia Samoylova will travel to Lisbon next year to represent the country in the Eurovision Song Contest 2018. Dima Bilan went ahead and travelled to the city during early August to shoot two new music videos.
The video for Derzhi (Hold) was the first to be released and already accounts for more than 100,000 views within its first hours online. In the funny music video, the Russian singer walks around Lisbon being followed by a girl.  Miss World 2008, Ksenia Sukhinova following Bilan in a car. The ending proves that who laughs last, laughs longest.
Dima took three days to shoot this video and walked over 100 kilometers. Leonid Kolosovsky, the video's director, had nothing but great things to say about the experience and provided kind advices for who intends to visit Lisbon in the following year: "Natural tricks awaited us. The weather near the ocean is very changeable and unpredictable…The wind, then the heat, then the cold, then the fog… But with the right company and a cheerful atmosphere nothing is scary!"
Russia's 2008 winner also made sure to provide a few words about the city in a statement published in his website: "My special respect to Lisbon. 10 years ago I was here as a nominee for the MTV Europe Music Awards and I was happy to come back. It's cozy here, the history is embracing and somehow very special."
What do you think of the new video? You can view it below.