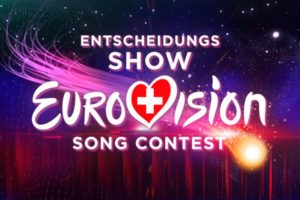 SRF, the Broadcaster responsible for choosing Switzerland's entry for the Eurovision Song Contest 2016 has announced the running order for the Swiss hopefuls. As in previous years, there will be six competitors who will each sing a cover version of a favourite song, as well as the entry they hope will take then to Stockholm in May.
The Swiss final to choose their entry will be held on the 13th of February.
The running order is a follows:
1. Vincent Gross will perform Astronaut by Sido featuring Andreas Bourani. His entry will be Half A  Smile.
2. Bella C will perform Empire State Of Mind (Part II)  by Alicia Keys. Her entry will be Another World.
3. Kaceo will perform Video Killed The Radio Star by The Buggles. Their entry will be Disque d'or.
4. Theo will perform Photograph by Ed Sheeran. His entry will be Because of  You.
5. Rykka will perform Love Me Like You Do by Ellie Goulding. Her entry will be The Last Of Our Kind.
6. Stanley Miller will perform Hello by Adele. His entry will be Feel The Love.
Switzerland will perform in the first half of the second semi final on the 12th of May 2016.
Last year Melanie Rene performed in the second half of the second semi final, and failed to reach the final, in fact she placed last with an inexplicably low 4 points.