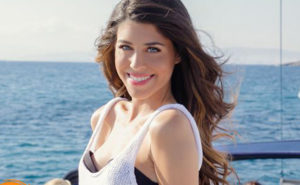 Last week ERT announced that Demy will represent Greece in Kyiv. Dimitris Kontopoulos will write three songs for Demy. The public, alone, will vote in a televised national final for the song that will represent the country in Eurovision. Demy will travel to Ukraine to film the video clips of the potential Greek entries. Her team is doing this, as they want to show the friendship between Ukraine and Greece.
As it was reported in newsit today, the Greek national final will likely take place in early March. The three songs won't be revealed earlier. People will listen to them for the first time at the National final. The song that receives the most votes will be the Greek entry in Ukraine. One of the key words that will be in the three songs, is "love". ERT's officers say that love has proven to bring people together. This will be one of the messages they will send at the 2017 Eurovision Song Contest with the Greek entry.
Below is Demy's cover version of Bulgaria's entry from last year, which placed fourth. She will be hoping to equal or beat that position for Greece this year.