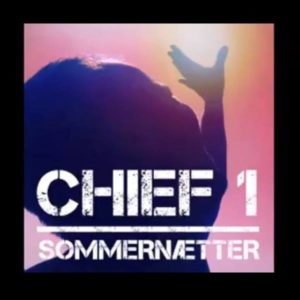 He is a songwriter, producer and DJ, and three times has he written the Danish Eurovision entry. Now he can add the title solo singer to his CV. A brand new summer single has just been released from the man who just calls himself Chief 1.
Though his music career started in the rap band Rockers By Choice founded in 1987, Chief 1 hasn't been singing for years. Today he is a well respected songwriter and producer and has worked together with well known names both in Denmark and abroad, but now we should get to know as a solo singer as well, a field which is rather unknown territory for the 46 year old man whose real name is Lars Pedersen.
Lars aka Chief 1 has just released the single Sommernætter (Summer nights) which he considers his first solo song, though a few months ago Man Skal Dø Lidt (You have to die a little) also was released. That song however he considers like a diary written after a period with a depression: "It gives me light, some calm, and help. And then I think that maybe I can use this to help others". He told that in an interview to TV2 which afterwards made him stronger and able to continue on this positive path which has now resulted in the new single.
Sommernætter is a song about being willing to take chances and go for you what, something which Chief 1 now has done.
The single is available on iTunes and Spotify.
As a songwriter Chief 1 has taken part in the Danish final four times – and three of them ended with a victory and thus a Eurovision ticket, although unfortunately none of them was particularly succesful. In 1997 Kølig Kaj finished 16th which meant that Denmark under the rules from back then wasn't able to take part the following year. In 2012 Soluna Samay placed 23rd out of 26 in the final and finally in 2015 Anti Social Media failed to reach the final with the song The Way You Are.