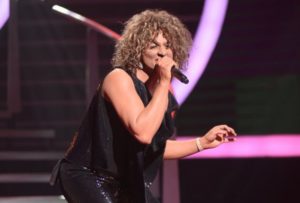 Daniel Kajmakoski has success at the moment as he Sunday night won an episode of the Serbian version of the TV-show "Your Face Sounds Familiar". This can make up a little for the fact that he didn't bring FYR Macedonia in the final of last year's Eurovision Song Contest.
The TV-show "Your Face Sounds Familiar" challenges celebrities to impersonate different music artist every week and was premiered in Serbia in October 2013. Usually an entire season of "Your Face Sounds Familiar" lasts 12 weeks. All money goes for a charity of the participants' own choice. The winner of each episode wins €1000, and the winner of the whole show wins €25000. In the first 10 shows only the judges and the contestants vote, and in the last two shows (semi-final and final) the tv-viewers are invited to vote too.
Daniel Kajmakoski won the third show of season three (which started on March the 6th) by performing Tina Turner's song Golden Eye. According to Kajmakoski himself his biggest challenge was to find out how to walk in high heals. Obviously the judges enjoyed very much the FYR Macedonian singer's impersonation of Tina Turner. Ana Kokić, singer and winner of the first season of the show, said that his voice was excellent. Vlado Georgiev, singer, was very fond of Kajmakoski's choreography and his imitation of such a specific female voice as Tina's. Ivan Ivanović, TV-host and actor, was fascinated with the singer's face impressions.
Daniel decided to donate his money prize to a 12-years-old handicapped boy, whose biggest wish is to see the sea for the first time in his life.
Daniel Kajmakoski completes Eurovision project with big donation
In the past a couple of former Eurovision participants took also part in the show: Nenad Knežević Knez (Montenegro 2015) came 5th in 2013 and Elena Risteska (FYR Macedonia 2006) came 2nd in 2014.
You can watch Daniel Kajmakoski's performance from show Sunday night in the video below: