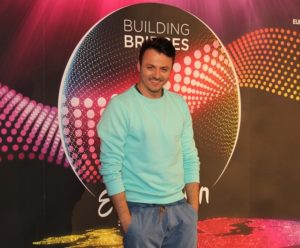 As a birthday present to the Eurovision Song Contest, this year's FYR Macedonian representative, Daniel Kajmakoski has covered the Irish 1987 winner Johnny Logan's Hold Me Now. It's Daniel's second Eurovision cover within short time.
Shortly before this year's Eurovision Song Contest, Daniel Kajmakoski covered the 1983 Yugoslavian entry Džuli. Daniel told back then the story about how we was named after that Eurovision artist. Now we have a second Eurovision cover from him as he recently covered Johnny Logan's Hold Me Now, which won the Eurovision Song Contest in 1987 for Ireland. This cover was sent out during this year's contest and followed by a happy birthday message to the Eurovision Song Contest:
It is a great honour for me to be part of the 60th anniversary for the Eurovision Song Contest. Unbelivable, 60 years of music, gathering and love. For this special moment I have prepared a big surprise for all of you. It is a cover of one of my favourite winners of all time. Happy birthday, Eurovision. Here is my present for you.
Daniel Kajmakoski unfortunately didn't qualify for the final of this year's Eurovision Song Contest when he represented FYR Macedonia with the song Autumn Leaves. Below you can take our little quiz about Daniel before you watch his Hold Me Now cover.
Daniel Kajmakoski (FYR Macedonia 2015)
Daniel Kajmakoski will represent F.Y.R. Macedonia at the 2015 Eurovision Song Contest. How well do you know him? Take this short quiz to find out!