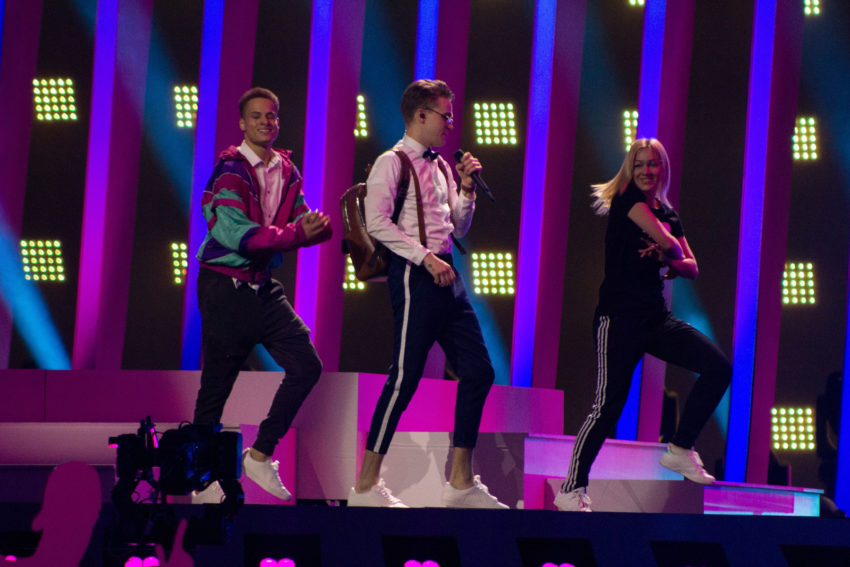 We have all been concerned about the health of Mikolas Josef – but he did a great second rehearsal of his entry Lie To Me, and he seems to be fine. Watch the video or take a look at our gallery.
Lie To Me
.
Gallery
Second rehearsal
Opinions expressed during our second rehearsal coverage are personal from the mentioned writers.
Pedro, Portugal (from the press center) That was a bit underwhelming and, honestly, I felt slightly uncomfortable watching him. He had to interrupt the rehearsals twice due to staging issues and I am still not sure if he really wants to do Eurovision or if this is just a case of consequences of his injury. Mikolas did not execute choreography and appeared to be very stiff on stage. Nonetheless, it's really hard to judge what his final performance will look like. Let me also add that vocally, Mikolas didn't deliver.
Josef Štaif, Czech Republic (from the arena) After few technical problems we saw Mikolas back on track after the problems with the back he had in the past few days after his first rehearsal. The performance is not changed much but it is obvious that he saves power for the semifinal. Still, this is one of the best performances the first semifinal has to offer and I believe we will see Mikolas going into the final.
Note: Choreographer Angee is replacing Kristian as one of the dancers as the later is off for his high school exams.
Complete the sentance
First Rehearsal
The staging for Czech Republic has a white Hollywood style staircase in the centre of the stage, with two white walls on either side of the staircase. There seemed to be an awful time taken getting everything ready. Mikolas is dressed in a  white shirt and bow-tie, and white boots. Surrounded by a group of accompanying teenage dancers, the whole performance oozes youthful-ness.
However there seemed to be some issues with some of the vocals, especially from the background singers who seemed a little weak. As the performance continued it all seemed to fall apart  a little, as his back pack slipped from his shoulders. The dancers seemed a little off and in places Mikolas looked totally bored. He ends the show with a somersault flip and it too fell flat. This was just the first rehearsal though and it looks as if the group are discussing what needs fixed,
The stage is awash with light blue and lavender lights and that looks very appealing, and on the positive side Mikolas was fine with his vocals. The trumpet playing was fine too, but of course that's not live and the bass was booming.
The second time around was a bit better and there was some chorography with the back pack. He called out with a Whats Up Eurovision, never a good sign, he should stick with the refrain. Judging by todays rehearsals though, this entry still has a good chance of giving the Czech Republic it's best result yet.
Third time round and the backing vocals were way turned up, maybe they had them low first two times, so we could hear Mikolas. The poor guy is probably sick of the amount of times he's had to perform the song lately.
How Mikolas Josef was chosen
The Czech broadcaster, Česká televize, received more than 400 entries in their open submission. Six songs were selected for the final phase of Eurovision Song CZ where the public could vote via an AP. Ten former Eurovision participants representing each their country made up a jury. This included names such as Jalisse (Italy 1997), Dami Im (Australia 2016) and Robin Bengtsson (Sweden 2017).
Mikolas won both the jury and the public vote.
Czech Republic at the Eurovision Song Contest
It has not been easy being a Eurovision fan in the Czech Republic. The country debuted, at the contest back in 2007 representing by Kabát and Malá Dáma.
After three miserable years, the broadcaster pulled out. In 2015, they returned – and have reached the final once, in 2016 where Gabriela Gunčíková came second to last in the final. With that being their best ever result, Mikolas Josef is expecting to become a national hero and improve this.