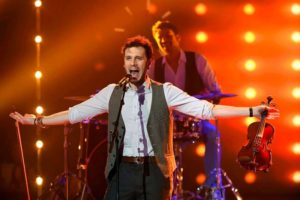 After failing to qualify for the Grand final since Sebalter in 2014 and not producing a winner since 1988, the Swiss national broadcaster is hoping that their new selection method will help to end their run of bad luck. They start out with 160 potential entries.
The German- Swiss broadcaster, Schweizer Radio und Fernsehen (SRF) has announced that they have received 160 submissions from artists hoping to be next representative for Switzerland in the Eurovision song contest 2017.
The 160 submissions will be put before a 20 strong expert jury from all over Switzerland. Out of these submissions, just 21 will be shortlisted to perform live on stage. The candidates will then be further scrutinised on their live vocal ability and their visual performance. This will take place on 4th of December. Up to 10 of these artists will then move on to the national final which is scheduled to televised on January 5th.
The Jury will then lose their power and the Swiss entry for the contest in Kyiv, Ukraine will be chosen solely by the public televote.
This year Switzerland made some radical changes to their selection process. Participants are now required to prove that they have a connection to Switzerland. They will need to be a resident or holding a Swiss passport. This change has been made in the hope of receiving better quality submissions.
In the past Switzerland used regional broadcasters to submit potential entries from each of the countries different regions. This method has now been scrapped. Each of the submissions will be assessed on merit rather than meeting regional quotas.
Switzerland at the Eurovision Song Contest
Since their debut, Switzerland has won the Eurovision song contest twice. The first time was in 1956 with Lys Assia's Refrain and the second was with now world famous Celine Dion's Ne Partez Pas Sans Moi. Both of the country's winning songs were performed in French.
Since the start of the new millennium, Switzerland has only reached the top 10 once with Vanilla Ninja. The Estonian based girl band clinched 8th place with their song Cool Vibes. The last Swiss entry to make the final was Sebalter in 2014. You can see his performance of Hunter Of Stars in Copenhagen below: