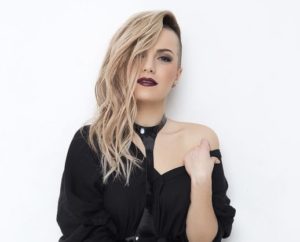 While we are still waiting for the Bulgarian entry for this year's Eurovision Song Contest, we now know that Poli Genova is going for a bilingual version of If Love Was A Crime for Stockholm. The actual song will be released on Monday.
On Monday, the 21st of March, the last song for this year's Eurovision Song Contest will be released. It is Bulgaria, the participant is Poli Genova who also represented her country in 2011 and her entry this time is titled If Love Was A Crime. Now we also know that the song is bilingual. That is revealed by the lyrics which are now public.
A few days ago, the lyrics for this year's Italian entry also revealed that they are doing for a bilingual version, but contrary to Bulgaria they have most of their entry No Degree Of Separation in Italian and just one chorus in English. For the Bulgarian entry, most is English with two chorus' in Bulgarian.
The lyrics for If Love Was A Crime can be seen in the image below.