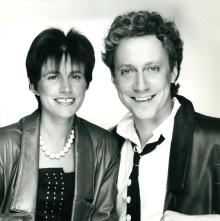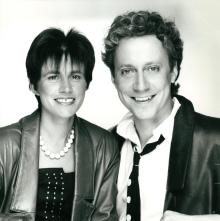 The Danish duo Kirsten & Søren, internationally known as Hot Eyes, have participated three times at the Eurovision Song Contest. They are a big part of Danish Eurovision history, not only because of their entries, but simply as they played a major part in the Danish finals of the 1980's.
In 1983, Kirsten Siggard took part in the national final for the first time. She was accompanied by the backing group Sir Henry, of whom Søren was a part at that time. The song was not supposed to be in the final, but got in since a song written by Søren got disqualified. His group should have performed this, which explains why they were used as backing group for Kirsten's song. He left the group and got together with Kirsten as "Kirsten og Søren" for the 1984 Danish final. At that time, Kirsten had a full-time job in a bank, which she kept even after the victory in Denmark and the 4th place at the Eurovision Song Contest. As the duo became more and more popular she eventually had to take the leap and quit her regular job. It was a big step for Kirsten, who was raised in a good Christian family and brought up to have traditional values. She sang in a church choir, spent a year in the USA as an au- pair, came home, studied as a bank-worker, and then stayed there. At that time, a job in a bank was considered as a lifetime job. She met her husband Jørgen in the bank; they got married, bought a house and started planning a family. Everything pointed towards a stable bourgeois life, but "Det Li'e Det" (It's Just That) became the start of a completely different life for her.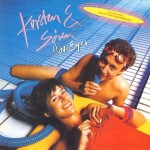 The 1984 song is known in Denmark mainly as "the swimming pool song", as near the end in the performance in the national final Kirsten threw Søren into a swimming pool. The song ended 4th at the Eurovision Song Contest: at that time Denmark's best place since the victory in 1963. An album was recorded, but it wasn't until the year after, when they repeated their victory in the Danish final, that they really believed in a musical future. The song "Sku' Du Spørg' Fra No'en" did not do as well as the previous one – ending in 11th place. Eurovision fans mostly remember it for including Søren's 9 year-old daughter on-stage, but it was this song which made Kirsten decide to quit her job and concentrate on her musical career.
They took part in the Danish final in 1986 as well as 1987 without winning, but the duo was still popular and it was in this period Kirsten started exploring her talent in other ways. She got a part in the theatre play "Solstik" in 1986, which later the same year went on tour in the country. Since then, alongside her singing career, she has starred in shows like Chess and Les Miserables. Perhaps her biggest success came in 1991 as Edith Piaf, a role she has repeated several times since then.
As an actress, Kirsten has also been in several revues through the '90s, and in 1992 she established the trio "Swing Sisters" with the opera singer Kirsten Vaupel and the actor Lise-Lotte Norup. The trio has recorded several albums and been on tour in Denmark, as well as performing in London and Hamburg. Together with Søren and as a solo singer, Kirsten has given concerts in Scandinavia (including the Faroe Islands and Greenland), Belgium, Germany, Paris, Spain and even Turkey and New York.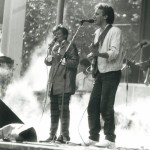 After coming 4th and 5th in the national final, the duo made their hat trick in 1988, which also gave them and Denmark their best international place as they came 3rd with "Ka' Du Se Hva' Jeg Sa'" (Do You See What I Say). The year after, in 1989, Søren wrote the song "Vi Maler Byen Rød" for Birthe Kjær. It won the Danish final and though the duo was still together it was seen as a kind of a break-up when Søren, together with the songwriter Keld Heick (who also wrote the lyrics for most of Hot Eyes' songs) joined Birthe on stage for the Eurovision Song Contest. Officially the duo split up in 1991, but they recorded their last record in 1988. Søren took part in the Contest in 1989 and in 1990; Kirsten Siggaard took part in the national final solo with the song "Inden Længe" (Within Not So Long), a song different from her and Søren's usual style, and written by a songwriter she had not worked with before. It might not have been officially over, but the duo was practically apart in these years.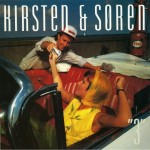 Since that time, Søren has been writing songs for others; he took part in the Danish final as a composer in 1993 and 1999 also. Aside from that he has been busy as a producer and manager for the Danish record company CMC, who is also responsible for the Eurovision CDs and DVDs.
Kirsten has been busy in Swing Sisters, as an actress in musicals and has performed with international artists like Gilbert O' Sullivan and Tommy Körberg.
Hot Eyes as a duo have not recorded anything since 1988, but they can still be hired for special events and are an obvious and often-used choice for festivals and TV shows celebrating the Eurovision Song Contest and Dansk Melodi Grand Prix.
In the '80s, there were many rumours regarding Kirsten and Søren being more than just partners musically, but fact is that Kirsten is still married to the man she met working at the bank. She is known as being a bit protective about her private life, not including her family in her public life so often, but there have never been any indications pointing towards anything else than happiness. They have two sons together – both actually having been on stage at the Eurovision Song Contest as in the 1984 Contest she was pregnant, expecting her first child. After the 1988 she got famous for always being pregnant as for this Contest she was expecting her second child, and this time it was even clearer as she was due to give birth only three weeks after the Contest. There were a lot of speculations about the fact that she might go into labour during the show! But the child remained patient and Kirsten sang a 3rd place home to Denmark.
With Søren it is a bit different. He has a couple of divorces behind him, and has had children with different women, but has never been known for living a playboy life. It was Søren's daughter who was on stage with them in the 1985 Eurovision Song Contest. Søren has later said that he regrets placing his daughter in that position as unfortunately it resulted in some mental problems for her. After living in Copenhagen most of his life, Søren moved to Aalborg, North-Jutland in the mid 90's due for his job at CMC.