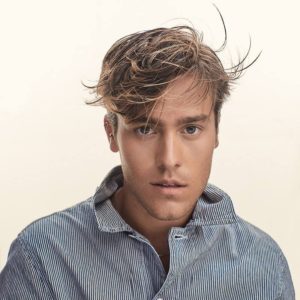 Benjamin Ingrosso, who represented Sweden at 2018 Eurovision Song Contest, has released a new single titled "Costa Rica". It is a song about his own breakup.
The rumor about Benjamin Ingrosso ending his relationship with 23 years-old Linnea Wildmark turned out to be true as his latest track Costa Rica, according to the singer himself, is a final confirmation of their breakup. It is also clearly demonstrated by the following lyrics: "I want to go to Costa Rica so I can bring back my Linnea." Costa Rica was apparently one of those places, Linnea loved to visit. Benjamin and Linnea have been an on-and-off couple for the last six years.
This is not the first time that Benjamin writes a song about breakup. The two songs that he performed i the Swedish selection Melodifestivalen. Good Lovin (2017) and Dance You Off (2018) are related to the same topic and the same girl, Linnea. Actually, Benjamin already mentioned it in March this year, that his relationship with Linnea is over. Back than, he released the song titled Happy Thoughts, together with an other familiar face from Melodifestivalen – his best friend Felix Sandman. And guess what? This song was also about Benjamin's crashed relationship.
Although the topic of Costa Rica is anything but happy, the song appears pleasant and positive with lots of summerish and chilling vibes.
Costa Rica lyrics
Yeah
You are on your surfboard thinkin' life is so good
I'm in London waiting for a phone call from you
You can see nothin' else, only you and yourself
It's a dream, it ain't real, you don't care 'bout how I feel
You fucking love la Costa Rica
But it makes you forget the real ya
Spendin' the days drinking tequila
You think you live the Pura Vida
You think you live the Pura Vida
You fucking love la Costa Rica
You know
Life is so much more than spending nights on the beach
If you only can grow up, you'll wake up and see
Girl, you need to find yourself, but that place even help?
You fucking love la Costa Rica (Lalalalala, lala)
But it makes you forget the real ya (Lalalalala, lala)
Spendin' the days drinking tequila (Lalalalala, lala)
You think you live the Pura Vida
You think you live the Pura Vida
You fucking love la Costa Rica
Brrua
Babe, you are lying to everyone
Saying you love being on your own
All of your friends telling you to stay
'Cause you got a new region everyday
You fucking love la Costa Rica (Lalalalala, lala)
But it makes you forget the real ya (Lalalalala, lala)
Spendin' the days drinking tequila (Lalalalala, lala)
You think you live the Pura Vida
You fucking love la Costa Rica
(Babe, you are lying to everyone)
But it makes you forget the real ya
(Saying you love being on your own)
Spendin' the days drinking tequila
(All of your friends telling you to stay)
You think you live the Pura Vida
('Cause you got a new region everyday)
You think you live the Pura Vida
(Babe, you are lying to everyone)
'Cause it makes you forget the real ya
(Saying you love being on your own)
Spendin' the days drinking tequila
(All of your friends telling you to stay)
You fucking love la Costa Rica
('Cause you got a new region everyday)
You fucking love la Costa Rica
(Babe, you are lying to everyone)
'Cause you lonely, ooh
(Saying you love being on your own)
(All of your friends telling you to stay)
('Cause you got a new region everyday)
I want to go to Costa Rica
So I can bring back my Linnea
While we are waiting for Benjamin's next release, which probably once more will deal with breakup, you can listen to Costa Rica in the embedded video below: