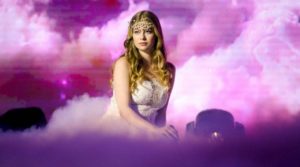 Only one song will be sung totally in French in this year's Eurovision Song Contest, and surprisingly that song comes from Austria where only 11% of the natives speak in that tongue, as a foreign language.
Today ORF presented the video of Zoe and L'oin d'ici.
The video is a very whimsical affair matching the light weight feel of the song. The video starts out with the evening sky, a full moon and shooting stars and as the sun rises Zoe gets ready to take a walk. Trees grow, flowers bloom and caterpillars turn to butterflies as Zoe parades through a land filled with natures beauty.
The song has been trimmed from its original 4 minute 18 second length, and drops a lot of the repetitive chorus at the end, but the song also loses some of the extended violin too.
Austria will perform in the second half of the first semi final.
Austria In The Eurovision Song Contest
Austria is most famous for Conchita Wurst's win in 2014 with Rise Like A Phoenix, and Udo Jürgens 48 years earlier
with Merci Cheri. Both have become Eurovision classics.
Unfortunately the rest of Austria's Eurovision history is rather thorny.
On seven occasions they have placed last and on eleven occasions since their debut they decided not to participate.
Aside from their winners, the next best place they achieved was fourth with Udo again in 1965 with Sag ihr, ich lass sie grüßen and four fifth places, the last being in 1989 with Thomas Forstner and Nur ein Lied. in 1989.
As we wish Zoe well this year, enjoy some of Austria's recent entries below.