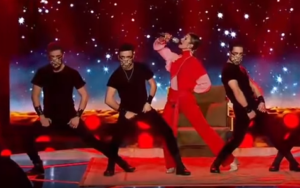 Did the Armenia broadcaster rig their result in order to get fan favourite Tamar Kaprelian out? And did Asmik Shiroyan copy her ideas? On social networks, Tamar has been actively working on those thoughts after her elimination from national selection Depi Evratesil.
Ever since the Armenian candidates for this year were revealed, Tamar Kaprelian's Poison (Ari Ari) was pointed out as the favourite to represent the country at the 2018 Eurovision Song Contest. With this being said, it was quite unexpected to watch Kaprelian being eliminated out of the show's first semi final.
The fans couldn't believe the result, and Tamar still can't as well. The singer believes that Depi Evratesil's production team rigged the results in order for her to be eliminated. After a few fans claimed they didn't receive a confirmation of their votes, Tamar stated: "Many many many many people have texted our team saying their SMS votes in Armenia never went through." Tamar even retweeted:
Armenia doesnt want to host esc + @TamarKaprelian has a winning song = sms "weirdly" not working for tamar #depievratesil

— non mi avete fatto niente 🇮🇹 | turin 2019 (@itrenidiTozeur) February 19, 2018
As if that isn't enough, the former Armenian representative recorded an Insta Story to accuse one of the show's second semi final performer – Asmik Shiroyan – of copying her ideas: "Someone stole our ideas about the masks… For sure… For sure", she says.
One can say Tamar really wanted to represent Armenia once again after her 2015 participation, and is not taking this smoothly. After facing backlash about her live vocals, Tamar even uploaded a video of herself singing an acoustic version of Poison (Ari Ari).
In the video below you can watch Tamar's semi-final performance. Were her vocals spot on, or is it fair to say she lost because of that? Judge for yourself.