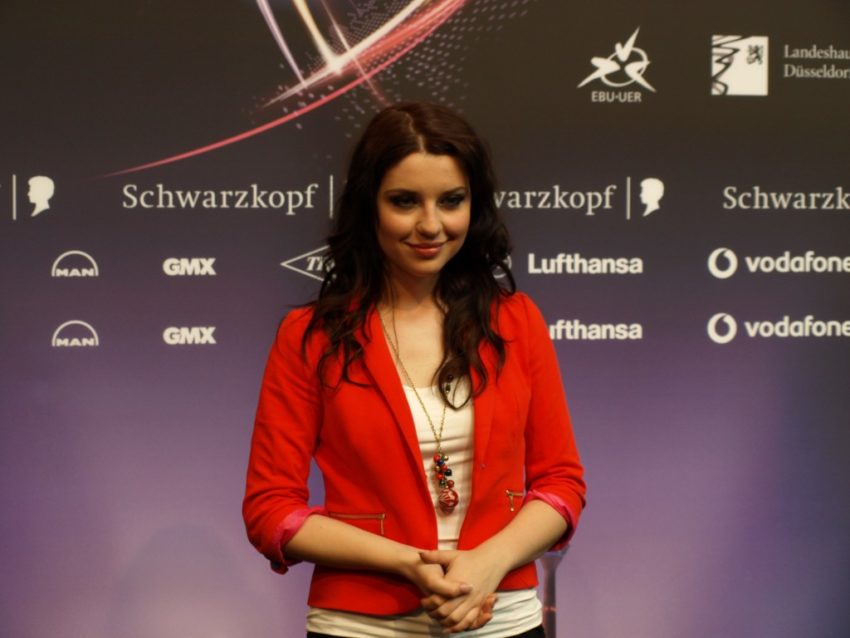 Amaya, also known as Maja Keuc, recently released a new album. She represented Slovenia at the Eurovision Song Contest in 2011. The title of her new album is "Fairytales".
It came as a huge shock for the fans and the public when Amaya earlier this year, just a few days before the Slovenian national selection EMA, announced her withdrawal from the competition in order to focus on her debut album. The album is produced in Sweden where she also lives. The Slovenian singer is engaged to Swedish band Dirty Loops vocalist Jonah Nilsson strengthening her connection to the Scandinavian country further.
When asked if her decision about withdrawing from EMA was the right decision, Amaya answered that it was a necessary step and a part of a puzzle. Talking about decisions, she also explained that it was a good thing for her to move to Sweden, because it gave her a lot of new possibilities, which do not exist in her home country. She said, that it was pretty difficult to learn a new language, new cultural habits and to build a new social network, and that she, for the first time in her life, felt scared. However – as she put it – what doesn't kill you, make you stronger. After all Amaya is proud of herself and happy that she was brave enough to leave her safety base back home in Slovenia in order to chase her dreams.
The Swedish/French singer, producer and composer Gustav Orphée Noah is the driving force behind this latest project. The Slovenian singer explained that her new album is like a challenge as well as an experiment, where she is allowed to try some new musical ideas and fantasies. The songs on Fairytales are written by Amaya herself. They are very personal and describe the singer's life throughout the last five years. The songs on this album flow between jazz, soul, pop and R&B, with a modern electronic touch.
Fairytales is Amaya's first album since she, under the name Maja Keuc, released her debut album Indigo in 2011, the year she represented Slovenia at the Eurovision Song Contest. The album is available on iTunes, Spotify and SoundCloud.
Track list:
1. Fairytales
2. Candylirious
3. Chase Me
4. Imma Do It
5. Hands Down
6. Back To School
Listen to the audio version of the song Chase Me online as we are waiting for the video of this song soon to be released. If you want to remind yourself of her Eurovision entry, you can do so in our video from 2011.