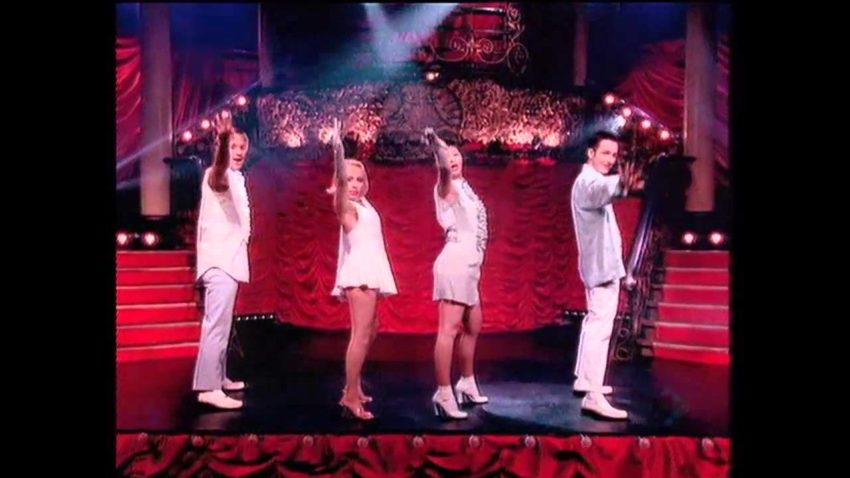 Having just had a number 11 hit on the British charts with 'Call It Love', the odds were in Deuce's favour that their follow up song would stand a good chance of representing the United Kingdom at Eurovision 1995. Things didn't work out that way, but did the Brits make the right choice that year?
Performing first at the Song For Europe contest on 31 March, the quartet were hot favourites to win, with their potential entry I Need You. The only thing standing in their way, were the band Londonbeat, who had reached number 2 with the song, I've Been Thinking About You, oh and top model and past chart regular, Samantha Fox, under her new name of Sox.
What no-one had bargained for was that, a new band, Dear Jon, had touched the viewers hearts with their Children's charity song One Gift Of Love and ended up placing second. The British viewers were even more in the mood for a bit of rap at Eurovision, and ended up choosing  the band Love City Groove with the same song title, beating Deuce into third place.
I Need You – opinions from fans
🇬🇧 Michael O. – I was quite the fan of Deuce's style of pop music, back in the nineties, particularly On The Bible, I Need You's follow up. I thought I Need You was a catchy little song from the group and still do. Deuce were pretty good live too, and opened the doors for Steps a few years later.
🇦🇺 Vivienne F. – oh I love this, starts off really strong, I love songs that are lively, and it suited that 90s vibe. The choreography is really good as well. I really want to join it. A sort of Buck Fizz for the 90s. I guess the lyrics could have been a bit better in the chorus, but besides that a real winner. I like it better than Love City Groove.
🇨🇴 🇫🇮 Alvaro S. – My first impression of this europop song from the 90s is that it sounds like a less catchy version of Gina G's song. However, I think that Deuce gave a good performance and looked more enthusiastic than the real representatives. I can imagine listening to their song while the 1995 representative's song did not age well.
🇬🇧 Richard C. – A typical 1990 beat and not in a good way with mediocre lyrics and vocals. The United Kingdom had a lucky escape here. The eventual winner wasn't much better either. A disappointing period for the UK until their win in 1997.
🇮🇪 John D. – I do remember this entry for the UK in 1995 as I preferred it to the winner from Love City Groove whose entry Love City Groove amazingly went on to get 12 points in the final from France! Deuce was the basic pop line up and had a style that the likes of Steps later found very successful. The song itself was never going to win and the choreography and presentation would have needed a lot of work for any Eurovision final. Love City Groove finished 10th that year with 76 points.
🇬🇧 Ashleigh K. – Love City Groove and I Need You are both so 90's it hurts. Having listened to both songs, I think the UK were right to send Love City Groove to Eurovision. I do like I Need You but I really dislike the choreography, it's too camp for my taste and the song doesn't stand out for me as much as Love City Groove.
🇩🇰 Charlotte J. – As I really don't like Love City Groove's entry, I watched this with the mindset that UK probably did have something better to offer that year. If they did, I am afraid I haven't heard it yet though. While I do agree that Deuce's I Need You is a lot more catchy, it's simply not strong enough vocally to do better than the 10th place Love City Groove for some unknown reason achieved. But if I am to listen to any of the two again, I will choose Deuce. I can live with some vocal weakness as the song is more catchy.
🇬🇧 Aaron S. – I'm sad to say I didn't like I Need You, the vocals sounded so off and at times, I couldn't even make out the words being sung due to how loud the rhythm was, it drowned out the singers and seemed messy. I'm glad Love City Grove took the UK's nomination as the R&B style song was something different, it wasn't a safe choice and I like it when songs go out of the box and do it well.
Below you can enjoy the video for I Need You, filmed in part at the Cafe De Paris, London, where many Eurovision pre parties have been held. If you want to check out the National Final performance, there are many unofficial sources to find it on youtube.
Deuce – a mini biography
The mixed quartet of Kelly O'Keefe, Lisa Armstrong, Craig Robert Young and Paul Holmes, scored their debut hit in January 1995 with the number 11 hit Call It Love. Their follow up song, I Need You, was submitted as a potential Eurovision entry, but in the end, finished third in the Song For Europe 1995 contest. However, despite this set back, the song reached number 10 in the British charts in April 1995.
A third single, On The Bible, followed in August 1995 and reached number 13, helping their debut album, On The Loose make number 18 on the album charts in September 1995.
Soon after the album release, Kelly left the band, and it seemed like the group had split up. However in June 1996, joined by replacement, Amanda Perkins, a fourth single, No Surrender, reached number 29. Not long after this the group went their separate ways
Lisa Armstrong married Ant, from Ant and Dec in 2006. The pair were married for 12 years, before divorcing.