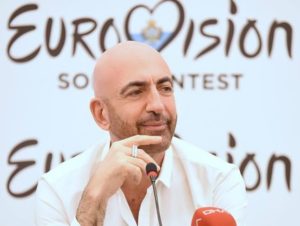 Turkish fans are all geared up by the fact that their very own Serhat once again will appear on the Eurovision stage for San Marino. In the absense of Turkey at the Eurovision Song Contest, he is their hope this year.
SMRTV, the Sammarinese broadcaster announced that Serhat will be their hopeful for the upcoming Eurovision Song Contest 2019 in Tel Aviv. As Turkey as a nation has not taken part since 2012, we take a look at what it means for Turkish fans to see one of their own at the contest.
It will be the second time that the Turkish star will represent the microstate in our beloved contest. In 2016, he represented San Marino with his song I didn't Know. He came 12th in the semi-final with 68 points, which was not enough to carry him to the grand final.
Serhat and the Turkish fans
Serhat has been a very popular media figure in Turkey since the 1990's. He was producing and hosting a TV Show called Riziko. He also became super popular with his song Ruya, a cover of Raschid Taha's Ya Rayah. Serhat has won numereous awards for his work in Turkey.
In 2016, Turkish Eurovision fans were so happy to hear that Serhat will be on the Eurovision stage. He visited Istanbul and met a bunch of OGAE Turkey members where he presented his promo CD of I didn't know.
The news of Serhat representing San Marino for the second time in Eurovision was accepted with excitement and joy among Turkish Fans. All social media groups of Turkish Eurovision fans are full of supporting messages for Serhat. It is extremely important for Turkish people to see a world known Turkish star on such an important stage. Eurovision is still popular in Turkey with a large number of fans.
Serhat's presence will be of major importance for all Turkish people accross Europe and Australia as well. This could be a huge source of votes for San Marino. You can enjoy Serhat's 2016 entry I Didn't Know by watching our video of his performance in the semi-final below: