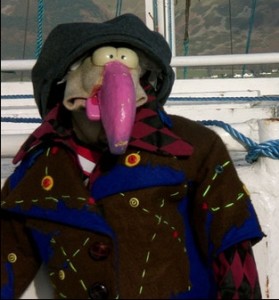 Over the years, many turkeys have been sent to Eurovision, but will Ireland be the first country, in the history of the contest, to send a real one? Dustin the turkey may be "fowl" mouthed but he's also a successful singer with 6 hit albums under his wing!
If you have never heard of a puppet called Dustin before then you aren't from Ireland. In the little island nation on the wetern frontier of Europe they have a national icon. It's no the harp, nor Guinness, no it's actually a puppet called Dustin. Dustin is a turkey crossed with a vulture with a strong Dublin accent. It is on his narrow shoulders that Ireland's 2008 Eurovision Song Contest hopes may rest. It has not been fully confirmed that RTE have accepted the puppets entry to the final, but it is far from being an empty rumour.
You may think that having a puppet sing in a national final is a bit daft, to say the least, but this is no ordinary kid's puppet. Dustin has racked up an astonishing 6 albums to date. Many of which were hits, thats not to say his vocal ability is of any great quality.
RTE are to announces the six finalists for Eurosong 2008 very shortly. Dustin and Maya Slatinsek are two names thought to be among the six.
Links
In my view
Given the succes of novelty acts since 2003 in the Eurovision this may not be the most ridiculous idea that RTE have come up with. Alf Poier, LT United and Verka have all had great success at the contest despite possesing questionable singing voices. I would much prefer Ireland to send a soaring ballad that actually deserves to win, but if 'novelty' brings the ESC back to Ireland, I won't be complaining!

The opinion expressed in "In my view" are those of the author and are not necessarily the one of EuroVisionary.com.