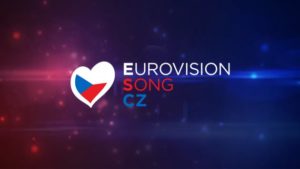 The Czech Republic is back with a new format for its national selection. Today during a special press conference, the broadcaster reveals the name of the selection, along with details of the six lucky finalists.
Czech Republic's journey to Lisbon started in the autumn when the broadcaster confirmed its participation. Later the submission period was opened. Česká Televize chose 6 finalists, releasing photos of their legs to allow the public to guess who they may be. 
Today the artists, song titles, and official videos are released, along with the rules of the competition.
This year, the name of the Czech Republic's competition uses the abbreviation ESC (as we know Eurovision Song Contest). The broadcaster slightly changed it to Eurovision Song CZ. The logo uses the tricolor from the Czech flag and also the official Eurovision heart.
With the finalists revealed, the online voting starts. The voting is run via the official Eurovision.tv app and everybody can vote. The voting is free and everybody has only 1 vote. However, only the votes of the Czech audience will count for the national selection. This will count as half of the votes.
The other half will come from the 8 members of the international jury. The voting is open for 2 weeks. When it closes, the broadcaster will reveal the bios, names and votes of the international jurors.
The votes from both groups will be allocated giving 8 points to the best song. The second will receive 6  points, followed by 4 to 1 points. On January 29, the artist representing the Czech Republic in Lisbon 2018  will be revealed.
Česká Televize has received more than 400 entries from all over the world and out of them, 36 came from Czech authors. Let's see who made it to the final six.
Debbi – High On Love
Mikolas Josef – Lie To Me
Pavel Callta – Never Forget
Eddie Stoilow – We Rule The World
Doctor Victor – Stand Up
Eva Burešová – Fly
Czech Republic At The Eurovision Song Contest
This will be the Czech Republic's seventh time at Eurovision. In a three year run between 2007-2009, the country failed to qualify for the final. Returning in 2015 they failed again. Gabriela Gunčíková brought them to the final at last in 2016 with I Stand.
Last year, in Kyiv, Martina Bárta placed 13th in her semi-final with her song My Turn.