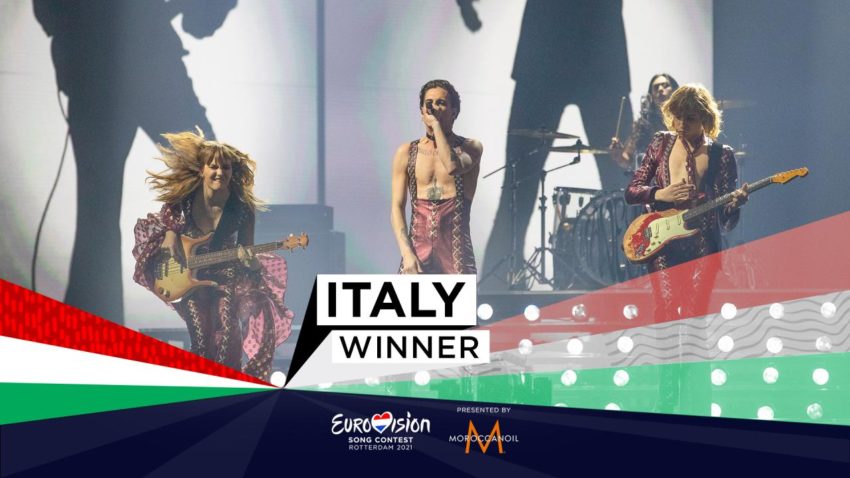 Let's welcome Måneskin, from Italy as the winners of the 2021 Eurovision Song Contest. Before celebrations can really kick in, they had one job left: to answer questions from Eurovision accreditated press. Here's what happened at the 2021 Eurovision Winner's Press Conference.
Half an hour after the final of the 2021 Eurovision Song Contest ended, it was time for press (and viewers on YouTube) to get a feeling of just how the winner feels. Below you can read about some questions and answers that popped up at this Winner's Press Conference:
Guitarist Victoria thanked all the viewers at home, who helped them to win the contest, after they had finished fourth with the juries.
The Italian press asked if winning Eurovision was better than winning San Remo, and the band replied Eurovision was worse as it took so long, for the results to be announced.
The band said
We want to dedicate this victory to all our fans
Due to a promise made earlier, Damiano has to jump in the Rotterdam canal tomorrow.
Asked about their favourite tonight
Our favourite was Ukraine
On a more serious note, the band hoped their victory will bring happiness to Italy, after a particularly difficult time in the country with COVD-19.
Damiano was asked if he took cocaine during the voting sequence, and he answered that band DO NOT TAKE drugs.
RAI announced that they are delighted that they will hold the contest next year, and thanked the band so much for bringing the contest back to Italy, after 31 years when they lasted hosted in 1991. Cities will be asked to bid. The band said wherever it is held, will be fine.
After RAI spoke the forum was open to International journalists, who asked what the group would say to newcomers, and they replied, Just Be Yourself.
The band also said that people who think Eurovision is a cheesy event are wrong, and that Eurovision is quite simply a Huge musical event, that new bands should be happy to participate.
As winners, Måneskin told acts from last place United Kingdom, not to be put off as it is a competition and someone has to come last, but would encourage British acts to compete again next year.
At the end of the conference, Ethan thanked all the contestants from this year's contest.
You can watch our interview with the winners below, which was recorded last Thursday.