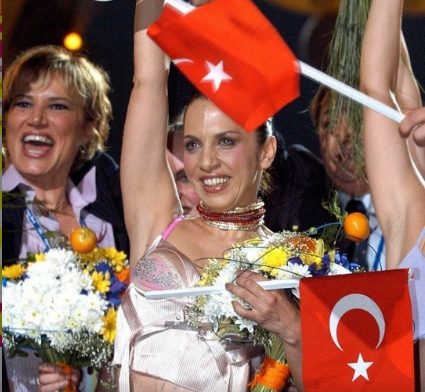 Re-living her Eurovision victory, Turkish 2003 winner express her desire to see the country back at the Eurovision Song Contest. For her, it's the perfect opportunity to share and promote the local culture. Turkey withdrew after the 2012 contest.
Saturday evening, after 17 years, the 2003 edition of the Eurovision Song Contest was broadcast again on YouTube. As part of the EurovisionAgain theme, fans were given the option to vote for the competing songs again. Just as in 2003, Sertab Erener's Everyway That I Can was confirmed to win the hearts of Eurovision fans – also in 2020. Shortly after the result of the 2020 voting was published, Sertab reacted to it on Twitter.
It's a great honor and joy for me to have won the Eurovision Song Contest held by the official Eurovision channel once again after so many years as a result of your votes all around The world! Thank you! Love you all!
Last night, fan club OGAE Turkey followed up on in a live interview with Sertab on Instagram.During the interview, she expressed her excitement and happiness to be remembered after 17 years. She shared her memories about her participation in Riga at the 2003 contest. And of course, the Turkish withdrawal from the Eurovision Song Contest was brought up too.
Sertab wants Turkey to return to the Eurovision Song Contest
After Turkey won the contest for the first and only time in 2003, Turkish people were happy. The country saw the contest gaining popularity, which was further continued by generally good results in the years that followed. In 2012 Turkish broadcaster TRT however decided to withdraw from the contest using neighbouring voting and the Big 5 countries as their official reason to do so.
Over the years, there have been plenty of rumours about a possible Turkish comeback, but so far, the broadcaster has not taken any concrete initiative to return, as far as we know. If it was up to Sertab, they should do so, better sooner than later. For her it's a fantastic stage to show the Turkish culture.
I think we definitely should return. It's one of the sweetest contests in the whole world. A contest with a long past, that contains culture. I think culture is everything. Nations and individuals should aim to share their culture. Eurovision is a stage where we can show our culture and music to the world. It's a very nice arena and a very fun show. That's why we should always be in.

Sertab about Turkey in the Eurovision Song Contest
The Turkish 1975 debut entry Seninle Bir Dakika, Sertab revealed as her favourite Turkish Eurovision entry, though she admits that it's difficult to sing. She mentioned the Swedish 1974 winner Waterloo by ABBA as her all-time favourite Eurovision song.
Sertab ended the interview by saying that she still follows the Eurovision Song Contest, and that she hopes to soon see Turkey return.