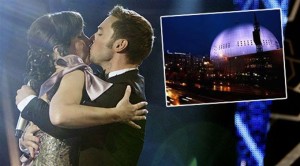 Through the official Twitter account of the contest, it was revealed today that, on Monday14th December, the host broadcaster SVT will annouce the name or the names of next year's Eurovision Song Contest presenter(s). EuroVisionary takes a look at the rumours and at history of Eurovision hosts.
The jigsaw puzzle of the upcoming Eurovision Song Contest is filling in slowly because, after the announcement of the list with the participating countries, on Monday 14th the host broadcaster SVT will reveal the name of the presenter or presenters of the 61st Eurovision Song Contest.
The presenter(s) of the 2016 #Eurovision Song Contest to be unveiled at a press conference held by Swedish broadcaster SVT, Monday 12:00 CET

— Eurovision (@Eurovision) December 10, 2015
According to the Swedish newspaper Expressen, rumours suggested Eurovision 2015 winner Måns Zelmerlöw together with 2013 host Petra Mede as the couple fronting next year's Europe's favourite TV show in Stockholm, to be held inside the Globe Arena on the 10,12 and 14 May 2016.
Lili Assefa, SVT 's head of press for Eurovision said about Monday's announcement:
We will not be making any comments before the press conference.
Eurovision Song Contest Presenters
All contests before 1978 had one presenter and only a few after 1988 have had only one presenter. Eurovision 1999 was the first contest to use three presenters; this happened again in 2010, 2011, 2012 and 2015.  Since 1988, it has been the norm to have two presenters for the contest, except for 1993, 1995 and 2013, in which there was only one. 2009 was the only contest where there were different hosts for the final and the semi finals.
Year
Presenter(s)
Year
Presenter(s)
1956
Lohengrin Filipello
1987
Viktor Lazlo
1957
Anaïd Iplicjian
1988
Michelle Rocca and Pat Kenny
1958
Hannie Lips
1989
Lolita Morena and Jacques Deschenaux
1959
Jacqueline Joubert
1990
Helga Vlahović and Oliver Mlakar
1960
Katie Boyle
1991
Gigliola Cinquetti and Toto Cutugno
1961
Jacqueline Joubert
1992
Lydia Cappolicchio and Harald Treutiger
1962
Mireille Delannoy
1993
Fionnuala Sweeney
1963
Katie Boyle
1994
Cynthia Ní Mhurchú and Gerry Ryan
1964
Lotte Wæver
1995
Mary Kennedy
1965
Renata Mauro
1996
Ingvild Bryn and Morten Harket
1966
Josiane Shen
1997
Carrie Crowley and Ronan Keating
1967
Erica Vaal
1998
Ulrika Jonsson and Terry Wogan
1968
Katie Boyle
1999
Dafna Dekel, Sigal Shahamon and Yigal Ravid
1969
Laurita Valenzuela
2000
Kattis Ahlström and Anders Lundin
1970
Willy Dobbe
2001
Natasja Crone Back and Søren Pilmark
1971
Bernadette Ní Ghallchóir
2002
Annely Peebo and Marko Matvere
1972
Moira Shearer
2003
Marie N and Renārs Kaupers
1973
Helga Guitton
2004
Meltem Cumbul and Korhan Abay
1974
Katie Boyle
2005
Maria Efrosnina and Pasha Shylko
1975
Karin Falck
2006
Maria Menounos and Sakis Rouvas
1976
Corry Brokken
2007
Jaana Pelkonen and Mikko Leppilampi
1977
Angela Rippon
2008
Jovana Janković and Željko Joksimović
1978
Denise Fabre and Léon Zitrone
2009
Natalia Vodianova and Andrey Malahov (semi-finals)
Alsou and Ivan Urgant (final)
1979
Yardena Arazi and Daniel Pe'er
2010
Nadia Hasnaoui, Erik Solbakken and Haddy N'jie
1980
Marlous Fluitsma
2011
Anke Engelke, Stefan Raab and Judith Rakers
1981
Doireann Ní Bhriain
2012
Leyla Aliyeva, Eldar Gasimov and Nargiz Birk-Petersen
1982
Jan Leeming
2013
Petra Mede
1983
Marlene Charell
2014
Lise Rønne, Nikolaj Koppel and Pilou Asbæk
1984
Désirée Nosbusch
2015
Mirjam Weichselbraun, Alice Tumler and Arabella Kiesbauer
1985
Lill Lindfors
1986.
Åse Kleveland