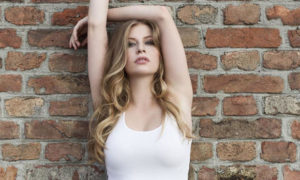 Tonight in Vienna, ORF presented the Wer Singt Für Österreich show to choose who will represent Austria at the Eurovision Song Contest 2016 to be held in Stockholm, Sweden, on May 10th, 12th and 14th. Ten competitors took part with a view of redeeming the country from its nil points defeat at last year's contest.
Austria now joins the ever growing list of countries that have chosen the singer and song which will represent then at the Eurovision Song Contest 2016. Ten competitors sang their hearts out tonight, but only one lucky winner will make the trip to Scandinavia's largest city and the Ericsson Globe.
The Songs
Vincent Bueno – All We Need Is That Love
Vincent has a pretty cool name and look, hovering around the stage on his hoverboard – let's hope he doesn't go up in flames. The song was a bit of a stop and start kind of thing. Every time the audience started clapping along, the tempo changed and confused them, but it was a happy opening number. Julie liked it.
LiZZA – Psycho
LiZZA strummed upon her cream coloured guitar. She was like a throwback to hippy singer Melanie but got a bit more life to her towards the end. The tweets on screen described it basically as nice but not a winner
Orry Jackson – Pieces in a Puzzle
Orry has been watching Mans' stage show from last year and decided to use it. Did Sweden leave the props at Wiener Stadhalle when they left? The song didn't have a lot of urgency about it, but, as a stage performance, it was a pleasant enough song. A bit of rapping towards the end to appeal to the younger audience. Passable. Conchita recognised he was copying Sweden from last year.
Elly V – I'll Be Around (Bounce)
This song should have been called I'll Be Around (Loitering On Stage). Dressed all in white, this was a bit Tasmin Archer-y in flavor. There's a blast from the past. As it continued, more music came in and it lifted the mood a bit. It pepped up so much four male dancers unexpectedly appeared and they found they could bounce around on stage. Good vocalist. Elly's mother appeared to be loving it. Conchita did not like the dress.
Lia Weller– Runaway
Sucking up, Lia's fave song was Rise Like A Phoenix. Another one dressed in a white wedding dress but there was again no life to the song. It just meandered along till it reached its end. Again though, the singer was pretty good and then, with a blatant hint of plagiarism, Lia rises up on stage Aliona  Moon-style. The audience glimpsed Farina and Celine rushing off to make a quick change to a cowboy hat, guitar and white dress to mimic the Common Linnets. The judges said the song lacked edge.
Farina Miss & Céline Roscheck – Sky is the Limit
Wow, security must have stopped them at the door because Farina, or was it Céline, was wearing a black and white striped pant suit so tight she'll need a can opener to get it off. The other lady bounced around again in a white wedding dress type of outfit. This must be all the rage these days at H&M, Vienna. The song was primarily repeating the title over and over again to a mid-tempo string beat.
AzRaH – The One
Well this was a bit more raunchy compared to the others and AzRaH was stepping out in the other colour of the Austrian flag – flaming red. She certainly gave it her all but the judges didn't seem to be too impressed.
Sankil Jones – One More Sound
This was totally different but not necessarily in a good way. The song is quite indescribable and the tweets on screen were saying that the judges need their heads looked at after giving this amount of points. Total nonsense.
Bella Wagner – Weapons Down
This was tonight's slowest song and it was macabre. Of course, all dressed in black. However, in attempt to gain attention, the black was soon removed to a dress Bella clearly made for Halloween out of several bandages. Conchita wanted the dress. This change seemed to work, tweets on screen were appalled at the high score. Mini bar anyone?
Zoë – Loin d'Ici
A flowery background for flowing Zoë to end the show. The language difference made it stand out and the background, in keeping with pinching from past entrants, was like Poland from last year. The violin helped it along. Massive audience cheer.
The Show
The show took place in the ORF Centre in Vienna. Andi Knoll, co-hosted the show tonight with Alice Tumler, one of the infamous trio who co-hosted the Eurovision Song Contest 2015 in Vienna. The background music took us right back to Vienna 2015. The expert juries were introduced: Madita, an Austrian singer and dancer, Julie Frost, singer and song-writer, Lena's Satellite being a credit, and, finally, good old Conchita, winner for Austria in the 2014 contest. Also a group of  Austrian media personnel, Stefan Weinberger, Astrid Hofer, Anna Gasteiger, Christiane Fasching, Martin Fichter-Wöß,Marco Schreuder, Roland Bonimair and Christian Ude voted and their results were combined as if to form a fourth jury member. The acts were introduced by video and, boy, did they talk. Each act chose their favourite Eurovision song of all time.
After a while, it became apparent Alice was hosting the whole show from the judge's desk. One had to wonder what were they hiding under the desk – a full mini bar perhaps? It was also amazing how seven journalists were managing in such short time to relay their votes to spokesman Christian. Technology is an amazing thing.
Conchita sang That's What I Am before the public results.
The Results
Each jury member gave the contestants a score out of 10. After all the songs were performed, the points were added together and then translated to a 10-1 point scale. Only the top three of the tele-voting was announced and then the top two combined proceeded to the sing off. It was Elly V versus Zoë. Again, the phone lines were open for the public to pick the winner. As a result Zoë, has been chosen to represent Austria this year. Congratulations!
| | | | | | | |
| --- | --- | --- | --- | --- | --- | --- |
| |  Jury Total  | Coverted Points | Public | Total  | Position  | |
|  Vincent Bueno |  25 |  6 | | | | |
|  LiZZA |  32 |  8 | | | | |
|  Orry Jackson |  19 |  5 | | | | |
|  Elly V |  37 |  10 |  9 |  19 |  1 | |
|  Lia Weller |  18 |  4 | | | | |
|  Farina Miss & Céline Roscheck |  10 |  2 | | | | |
|  AzRaH | 16 |  3 | | | | |
|  Sankil Jones |  28 | 7 | | | | |
|  Bella Wagner |  36 |  9 |  8 |  17 |  3 | |
|  Zoë |  28 |  7 |  10 |  17 |  2 | |
Austria In The Eurovision Song Contest
Austria have appeared in the Eurovision Song Contest forty-eight times, debuting in 1957 with Bob Martin and Wohin, Kleines Pony? reaching tenth place. Throughout the fifties, Austria always managed to place in the top ten.
In the sixties, Udo Jurgens was their big star, representing the country three times in succession, finally winning in 1966 with Merci Cheri. At the end of the decade, Austria pulled out of the contest for two years, repeating their absence in between 1973-1975. Bookending these years, Austria came fifth with The Milestones' Falter Im Wind in 1972, and Waterloo & Robinson with My Little World in 1976.
The eighties saw five top ten results for Blue Danube, Mess, Westend and Gary Lux, but, again, fifth place was the highest they reached this decade with Thomas Forstner and Nur Ein Lied. Sadly, only two years later, Thomas gave Austria one of their seven last places in the finals, scoring zero points with Venedig Im Regen.
The subsequent years were mixed for Austria and, from year to year, it was questionable if they were going to compete. However, in 2014, Conchita Wurst swept to victory with Rise Like A Phoenix, giving Austria their second win.
Can Zoë make it number three?
Below, you can enjoy highlights from Austria's participation in the contest from the last five years, including exclusive unseen content.