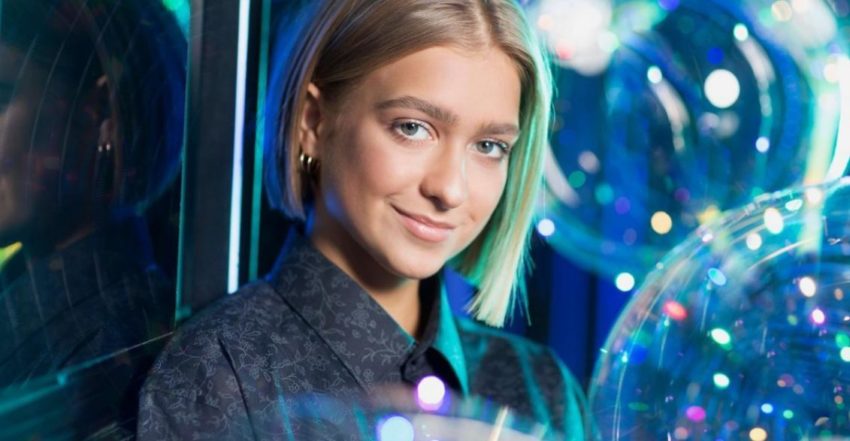 Tonight saw the second last National Final of the 2019 season take place in Minsk where Belarus have chosen ZENA to represent the country at this year's Eurovision Song Contest.
Ten acts participated tonight and in the end ZENA won the contest hosted by broadcaster National State Television and Radio Company of the Republic of Belarus (BTRC). Belarus will perform on May 14 in the first half of the first semi final in Tel Aviv.
The show was hosted by ex-Belarusian entrant Teo, along with Olga Ryzhikova. There was no messing about tonight. The act sang the song and the jury voted for it as soon as it was finished. None of the acts looked very pleased after they scored lower than ZENA with her 69 points.
The Songs
Michael Soul – Humanize
Tonight's show was opened by one of the pre-contest favourites. A red flickering light opened the performance and Michael looked as if he was dressed in a Japanese kimono, but when he walked it was just a coat, while he stood behind a flowered pattern. As per the title of the song there wasn't much of a human touch to this very electronic song. Lots of crashing, banging and screaming. Very metallic.
ZENA – Like It
All in white ZENA actually has one of the best pop songs in all of the National selections this year. This is a very catchy song, which is helped greatly by four female backing singers. The song grows and grows at it proceeds. The video wall in the back randomly showed some of the lyrics of the song. Mainly like it over and over, but still a pretty powerful performance.
Eva Kogan – Run
A sweeping violin introduced this song and continued all the way through. It was the best thing about this song. The song itself was a ballad which crawled along at a snail's pace. Eva looked well standing stagnant on a podium, all in white, but due to the nature of the song didn't move much. The song kicked up a notch as it entered the final verse and chorus but by that time it was probably too late.
BLGN & Mirex – Champion
This was a very good powerful soul number from this male duo. The excellent vocals and pounding electric piano produced a very distinctive beat. Three backing singers helped but they really were not needed as Alex Blgn  filled the studio with his voice alone. Very popular with the audience.
Sebastian Roos – Never Getting Close
Four female backing vocalists helped Swedish Sebastian with his song which he described as rock. However while there may have been some guitars in the song, this was more of a power ballad than true rock. Sebastian certainly sang the song well enough but there was nothing to really make it stand out. Teo thought the song was beautiful.
Alyona Gorbachova – Can We Dream
Alyona set out to give Roko from Croatia a run for his money with the feathers and wings. Sewed into a very tight white dress and the earlier mentioned feathers, this was another emotive ballad – and boy did Alyona emote. Similar in structure to Mika Newton's Angel, the vocals could not be faulted, although the song lacked a certain something needed to win.
PROvokatsiya – Running Away from the Sun
A little bit of rapping from what looked like Belarus's answer to Years and Years, in looks if not In sound. Three female dancers jiggled around to the minimalistic thumping beat. This song had a lot of la la la's in it. One that seemed to appeal more to the younger members of the audience. A good attempt at something modern. The duo looked very trendy and youthful in their kind of matching silver and black costumes.
Aura – Caravala
Haunting pan pipes promised much at the beginning of this song, but it was down hill from there. Aura had the fanciest staging of the night, with an illuminated purple and pink tree behind her. She was dressed in a purple and black concoction that she may have sewed up herself. She was accompanied by a female dancer who also wore the same garb. More visually than audibly appealing.
NAPOLI – Let It Go
NAPOLI, now a solo artist, Olga Shimanskaya is back for another attempt. This is a slow ballad and a dancer was still needed to fill the stage. The chorus was quite memorable. NAPOLI was dressed in white lace dress that seemed to run out of material as it got nearer her ankles. There were a few missed notes here tonight and the wind machine was used to full effect. A good enough attempt.
KeySi – No Love Lost
After a couple of quieter entries, KeySi came crashing on to the stage, with another electronic based song. Dressed in a green long coat, she was accompanied by two male dancers, and three backing vocalists. The dancing was better than the song, although presentation wise this was as good as anything tonight.
The Results
The songs were judged by a professional jury panel. There was no public vote this year. The jury included Dmitry Koldun. Each jury member awarded the song a score from 0-10 as soon as it had been performed.
| | | |
| --- | --- | --- |
| | Jury Total | Position |
| Michael Soul | 59 | 4 |
| ZENA | 69 | 1 |
| Eva Kogan | 54 | 10 |
| BLGN & Mirex | 65 | 2 |
| Sebastian Roos | 62 | 3 |
| Alyona Gorbachova | 59 | 4 |
| PROvokatsiya | 55 | 8 |
| Aura | 55 | 8 |
| NAPOLI | 58 | 7 |
| KeySi | 59 | 4 |
Belarus At The Eurovision Song Contest
This year will be the 16th time Belarus participates in the contest having made its debut in 2004 the same year that the semi finals began.
Unfortunately on their first attempt Belarus did not qualify to the final with My Galileo by Aleksandra and Konstantin.
It wasn't until their fourth attempt that Belarus made the final when Dmitry Koldun did very well by finishing in 6th place with Work Your Magic. To date this is the only time Belarus has finished in the Top 10.
They have failed to qualify to the final on ten of their fifteen attempts. Of the other four entries to reach the final Alyona Lanskaya and Teo did best by both finishing in 16th place with Solayoh and Cheesecake in 2013 and 2014. Last year Alekseev failed to reach the final with the song Forever.