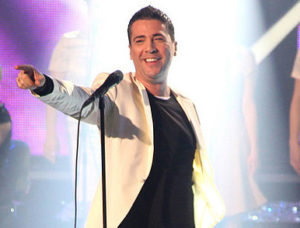 Željko Joksimović has spoken out against the current voting system which he believes Serbia suffered for in this year's Eurovision Song Contest. The song finished 10th – and what he is suggesting wouldn't have made any difference.
After the final of the Eurovision Song Contest, Željko Joksimović approached Bojana and Vladimir Graic (the composer of the song), and expressed them his big disappointment for her 10th placed entry. He told that to Serbian newspaper Blic, Željko Joksimović and added that, Bojana, the Serbian representative deserved better than her 10th place. He added that he finds the voting system of the Eurovision Song Contest very unfair:
Bojana was excellent. I am personally against this system of voting because it questions the purpose and essence of the competition. It's clear that the votes of the jury and the audience are completely different…I think it has never happened in the history that the host country has zero points.  Relevant only is the audience and their tastes that can make a song become last, not the juries.
The Serbian entry, Beauty Never Lies finished tenth with 53 points. If the juries had the full say in the voting, the country would've finished in 24th place, but 100% televoting wouldn't have made any difference as they also only had the song on a 10th position.
Željko Joksimović represented Montenegro this year with a song performed by Knez. That song finished 13th in the final.
We invite you to test your knowledge about Bojana in our little quiz:
Bojana Stamenov (Serbia 2015)
Bojana Stamenovrlöw will represent Serbia at the 2015 Eurovision Song Contest. How well do you know her? Take this short quiz to find out!
Below you can see Bojana perform her Beauty Never Lies at the 2015 Eurovision Song Contest: