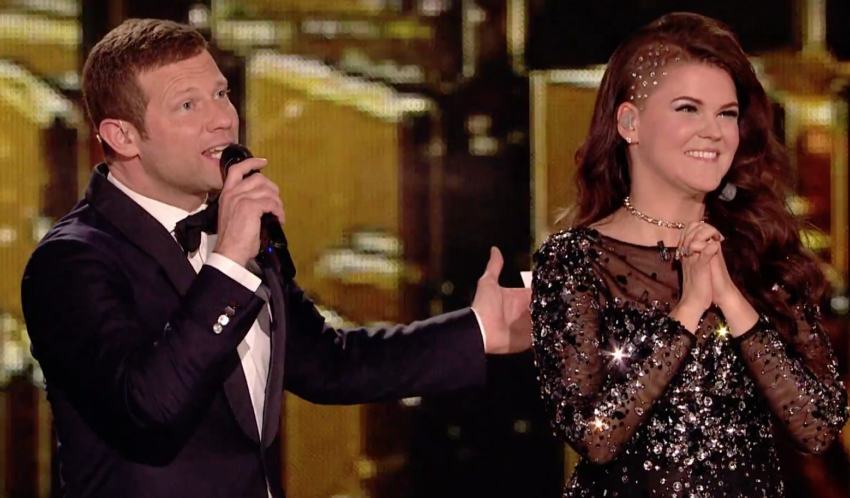 How close was Saara Aalto to winning the X Factor UK? The voting statistics revealed today shows some interesting details which might surprise many. In last night's dramatic final, Saar was beaten by Matt Terry.
It was a nail biting final last night which saw Saara Aalto place 2nd to Matt Terry from Nicole Scherzinger's 'Scherzy boys'. During the last two week's of the competition the media was flooded with reports that Saara was the bookies favourite to win the competition outright and many believed that she would. However, despite pulling in a 10,000 strong crowd at her homecoming in Helsinki (the biggest ever seen in the X-Factor) it was Matt Terry who stole the crown.
ITV who broadcast the X-Factor have revealed the voting stats for this years live shows. Hopefully, this will help to rebuff rumours that Finnish fans of Saara had found a loophole to be able to vote despite only viewers in the U.K being allowed to vote. The stats reveal that indeed Saara had a shaky start in the competition, but she never once came completely bottom of the public vote. In fact, during the first two weeks where Saara found herself in the sing off, she was actually only just in the bottom 3. Had the rules not have been changed this year to include a lifeline vote, she wouldn't have had to perform in the sing off at all, at any point in the competition.
The stats also show that during this weekend's final, Saara actually was winning the show on Saturday when the votes froze. However, in the second and last show on Sunday Matt Terry overtook her and therefore was crowned the winner. Saara also won the vote outright during Christmas week and during last week's semi final.
In our article from last night, we provide you with a detailed overview of Saara Aalto's X-Factor journey.
Let's take a look at the stats for this years X Factor.
Week 1 – Theme: Express yourself
Matt Terry – 22.2%
5 After Midnight – 13.3%
Emily Middlemas – 11.9%
Honey G -10.9%
Sam Lavery -9.8%
Relley C -7.8%
Gifty Louise -6.6%
Ryan Lawrie -6.2%
Saara Aalto -5.3%
Freddy Parker- 3.4%
Bratavio -2.6%
Week 1:  Lifeline vote
Freddy Parker- 52.0%
Saara Aalto -38.5%
Bratavio -9.5%
Week 2- Theme: Motown
Matt Terry -19.5%
5 After Midnight – 15.6%
Emily Middlemas – 11.0%
Honey G – 9.3%
Sam Lavery -8.8%
Four of Diamonds – 7.3%
Relley C – 6.6%
Gifty Louise -6.4%
Saara Aalto -6.4%
Ryan Lawrie -4.6%
Freddy Parker- 4.5%
Vote 2 Lifeline
Ryan Lawrie -37.9%
Saara Aalto -32.0%
Freddy Parker- 30.0%
Week 3- Theme: Divas
Matt Terry -17.8%
Saara Aalto -13.7%
Emily Middlemas – 11.9%
5 After Midnight – 11.5%
Honey G – 9.4%
Sam Lavery -8.1%
Gifty Louise -7.9%
Ryan Lawrie -7.4%
Relley C -6.2%
Four of Diamonds – 6.1%
Vote 3 Lifeline
Ryan Lawrie -37.9%
Relley C – 36.0%
Four of Diamonds – 26.1%
Week 4 – Theme: Fright night
Emily Middlemas – 18.7%
Matt Terry -18.7%
Saara Aalto -11.3%
5 After Midnight – 10.6%
Sam Lavery -10.1%
Honey G – 9.2%
Ryan Lawrie -8.7%
Gifty Louise -6.6%
Four of Diamonds – 6.1%
Vote 4 Lifeline
Ryan Lawrie -41.2%
Gifty Louise -35.0%
Four of Diamonds – 23.8%
Week 5 – Theme: Girl band vs Boyband
Matt Terry -16.7%
5 After Midnight – 15.5%
Emily Middlemas – 15.3%
Ryan Lawrie -14.1%
Honey G -11.6%
Saara Aalto -9.4%
Four of Diamonds – 8.9%
Sam Lavery -8.5%
Lifeline Vote 5
Sam Lavery -46.1%
Four of Diamonds – 27.3%
Saara Aalto -26.6%
Week 6 – Theme: Disco
5 After Midnight – 19.0%
Saara Aalto -18.4%
Matt Terry -16.7%
Emily Middlemas – 13.4%
Honey G -11.7%
Ryan Lawrie -11.1%
Sam Lavery -9.7%
Week 7 – Theme: Movies
Matt Terry -21.1%
Saara Alto -20.1%
5 After Midnight – 17.5%
Emily Middlemas – 16.8%
Ryan Lawrie -13.3%
Honey G -11.2%
Week 8 – Theme: Louis loves & contestants own choice
Saara Alto -23.7%
Emily Middlemas – 22.6%
Matt Terry -21.2%
5 After Midnight – 20.3%
Honey G -12.2%
Week 9 – Theme: Christmas (Semi final)
Saara Aalto -28.8%
5 After Midnight – 26.6%
Matt Terry -22.5%
Emily Middlemas – 22.1%
Week 10: The final (Saturday)
Saara Aalto -35.3%
Matt Terry -33.4%
5 After Midnight – 31.3%
Week 10: The final (Sunday)
Matt Terry –48.5%
Saara Aalto –40.4%
5 After Midnight – 11.1% (left on Saturday)
You can see the moment where Saara became the runner up of the 13th series of The X Factor in the video below: