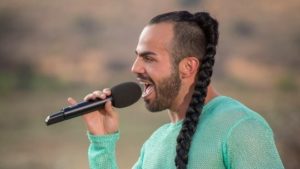 Slavko has failed to win the hearts of the UK public as 4 acts were given a second chance and a place in the live shows. Unfortunately for Slavko he was not one of them. 
Slavko's X Factor journey came to it's final end as he failed to secure his self a wildcard and a pass to the live shows.
During last weekend's episode Slavko sang On The Floor by Jennifer Lopez at Nicole Scherzinger's 'house' in South Africa – after going on a safari with the rest of Nicole's team. Aided by English grime and hip hop artist Stormzy, Nicole had to whittle her six 'guest' artists down to three. Her chosen three were her finalists that would progress to the live shows.
All was not over for Slavko as he still had a chance to earn a spot in the coveted live shows by being given a wildcard. Due to a shake up in the rules this year it was not the judges who selected the wildcard but in fact the public. The public were given less than 24 hours to vote one wildcard from each category. Slavko was up against Talia Dean and Berget Lewis. Unfortunately for Slavko, it was air stewardess Talia Dean who won the public's heart and with it, a place in the live shows.
You can enjoy Slavko's last X Factor performance at Judges Houses below.