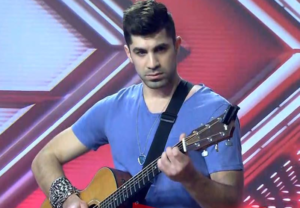 Panagiotis Koufogiannis secured himself a spot in the live shows of X-Factor Greece, this evening. Two years ago, the juries in the Cypriot national selection kept him away from Eurovision as he won the televote, but finished second over all.

Panagiotis Koufogiannis takes part in X-Factor Greece. Tonight, the TV viewers saw how he coped with the Chair Challenge phase as one of the favourites. He came on as last with the chairs that would give a spot in the live shows, already taken. This meant he would have to make an impressive appearance to persuade coach Giorgos Mazonakis to pick him over another previously one. That happened, and Panagiotis is now through to the Live shows of X-Factor Greece.
The song that Panagiotis performed was Can' t Feel My Face. The audience in the studio seemed to enjoy the song from the first moment and sang along. The judges did not hide their enthusiasm, his coach Giorgos Mazonakis even told him that he was fantastic, while Giorgos Papadopoulos, another judge told him that he is this year's X Factor!
From next Thursday, the 1st of June and every week forward, you can follow his further steps in X-Factor Greece on TV channel SKAI.
Below you can watch the song with which Panagiotis Koufogiannis almost reached the Eurovision stage in Vienna 2015: